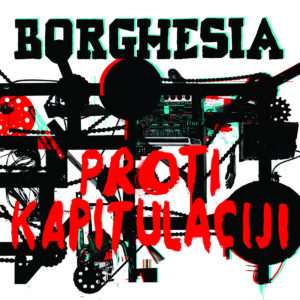 Borghesia
Proti Kapitulaciji
Moonlee Records
The lengthy hiatus of cult electronic act Borghesia placed unreasonable expectations on their 2014 comeback LP, And Man Created God. Unlike a certain other Slovenian act I could name, Borghesia never traded in bombastic excess, and instead mixed an immediate and often funky style of body music with quirky and risque flourishes taken from minimal electronics and other tape-based experimentalism. That LP's sardonic political sloganeering certainly fit the bill, though the musical changes which the core duo of Dario Seraval and Aldo Ivančič implemented with the help of a touring band were of a radically new cast. The mellower side of that record takes center stage on Proti Kapitulaciji, producing a record which is moody and mournful, yet still ultimately weird.
Listeners only familiar with Borghesia's 80s and 90s catalog will likely be shocked by the sheer amount of guitar on Proti Kapitulaciji. And I'm not speaking of chuggy commonplace post-industrial rock guitar either – the new LP features a veritable stable of twangy country-folk guitar, overtaking the Snog-like sounds of its predecessor and heading straight into Morricone, or possibly even Chris Isaak territory. Thankfully, those excesses are offset by the record's programming, although that generally eschews the band's early screwball EBM style for the sake of laid back and often weary grooves which bring trip-hop and the more downtempo side of darkwave to mind. It's easy to find parallels between numbers like "Kons" and mid-period Kirlian Camera, but over the course of Proti Kapitulaciji this new iteration of Borghesia establishes its own swing and sound, guided in no small part by the accompanying vocals of newcomers Irena Tomažin Zagorčnik and Jelena Rusjan, who lend clipped austerity when necessary ("Rodovnik"), but are more often called upon to dig out a newfound soulful side of Borghesia ("Na piramidi", "Ljubljana spi").
Speaking of vocals, English speakers may not be privy to the subtleties of the poetry of Srečko Kosovel which Borghesia set to music (though translations are thoughtfully offered on Bandcamp). While explicitly political, you don't need to speak Slovene to recognize the agitated yet mournful tone of the record's words. Addressing the contemporaneous birth of fascism in Italy head-on, Kosovel's poems are a desperate plea for a population content to materialistically sleepwalk to awaken and cease offering concessions to fascism for the sake of ease. It's fiery, impassioned stuff and yet it's difficult to not detect some bitter prescience of failure. Whether that's the result of historical perspective or Borghesia's own spin on "the Slovenian Rimbaud" is uncertain, but the resulting angst meshes well with the 'cultured' yet forlorn tone of Proti Kapitulaciji.
There's no getting around the fact that Borghesia is a very different entity now than they were during their initial run. Frankly, it'd be impossible for them not to be due to the sheer amount of time that's passed, the absences of former members (several now deceased), and, presumably, changes in artistic interests in the interim. There are flashes of their more rhythmically aggressive past ("Jaz protestiram", "Rodovnik") and even absurdist sample pastiche ("Moj črni tintnik"), but it's the grander melancholy of pieces like "Razočaranja I" which hold sway. These still showcase Borghesia's sense of irreverence, but their rebellion feels informed, and perhaps tempered, by hard-earned wisdom.