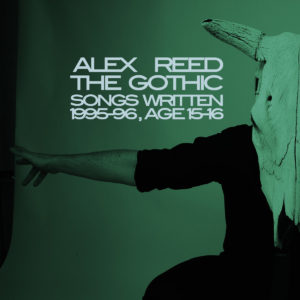 Alex Reed
The Gothic (songs written 1995​-​96, age 15​-​16)
self-released
The Gothic is comprised of songs written by Seeming's Alex Reed whilst he was a teenager living abroad as an exchange student more than 20 years ago. Eventually recorded on a break from birthing 2017's remarkable SOL: A Self Banishment Ritual (our favourite release of last year), the collection should be notable to fans of Reed's post-gothic, post-everything oeuvre as it presages aspects of his catalogue in some interesting ways, a document of a musician we know well as his voice was still developing.
What might be the most remarkable thing about The Gothic is how accomplished Alex Reed was as a songwriter at 15-16 years old. Tracks like "The Great Green Room" and "Drowning" are very obvious nods to middle-era The Cure, but rather than sounding derivative they come off as pleasing homages that zero in on that band's eternal dramatic appeal and hooks. And despite having some mildly eye-rolly couplets you have to admire how complete "Famine of the Soul" is from an arrangement standpoint, it's modulating melody deepening and widening around strummy chords and drum triplets.
Reed has declared that "not one note was changed" in these new recordings, and that his goal was to dash them off quickly but accurately in the style he had envisioned in his adolescence. That contrast between the vibrancy and youthfulness of the songs and Reed's fully formed persona as a performer and producer yields some notable results. Sometime the contrast is vivid, as the portentous capital-G-goth-rock of "Mother's Blood" (a song so naively ambitious that it comes complete with a choir on the chorus) is injected with some of the wry and playful delivery Reed often uses as a counterpoint to his more ominous passages. Elsewhere the effect is almost imperceptible as on the folksy acapella opening track "The Deepest Sea of Discontent", which despite being a touch florid could easily pass for a current Seeming b-side.
The Gothic is a collection of personal juvenalia, sure, but the vibrancy that comes from that innocence is its strength. It's bracing to hear a song like "Something Dire", a number so obviously aiming to be momentous, but whose charm is actually in the wide-eyed attempts at worldliness of the kind only teenagers can manage with a straight face. Simultaneously playful, earnest and impassioned, it's a very literal portrait of the artist as a young man, with all the exuberance and melodrama that implies. Gothic indeed.