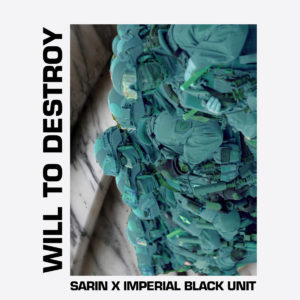 SARIN X Imperial Black Unit
Will To Destroy
BITE
We've grown accustomed to all manner of exciting dark techno/EBM releases taking the form of split 12″s and comps, but SARIN's Emad Dabiri's taken things a step further with a new release for Phase Fatale's BITE label – a collaboration with French post-industrial terrorists Black Imperial Unit, who've been carving out a reputation for themselves over the past year or two. The distortion and rage IBU have demonstrated in the past couple of years blends well with Dabiri's immediate beats, which take on a somewhat more rubbery and approachable tone here, akin to his Human Performance Lab work. Check the bassline on "Malfunction" with its uncanny resemblance to Depeche Mode's "Nothing" – a fair step friendlier than the concrete acid slabs we've often received from Dabiri in his solo work or Konkurs collaboration. Movie trailer voiceovers and dialogue samples (Heat and Assault On Precinct 13 were the only ones we could trace) conjure kitsch, terror, and mystery in equal turn, and are juxtaposed against nigh-indecipherable vocals, presumably from Imperial Black Unit, creating an odd dialectic between the tangible and the ineffable as the tracks build. Although something of Dabiri's interest in contemporary military issues comes across through inference, it's easy enough to put the origins and methodologies aside for the sake of enjoying just how naturally these two young acts are able to function together.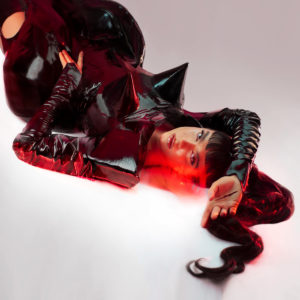 FEE LION
Blood Sisters
self-released
Chicago-based synth artist Justina Kairyte's work as FEE LION is getting progressively darker over time. Compared to her earlier, more mercurial releases new EP Blood Sisters is practically opaque; beefed up synths and deliberately sparse textures give her electro-pop numbers a frisson-worthy edge. "Re: (Visit)" uses an thick, insistent bassline to establish mood and allow us to acclimatize to Kairyte's controlled vocal delivery before small waves of synth tones flow through the track. The title track takes a similar template and amps it up in terms of tempo, offering up something for the dancefloor but keeping the instrumental arrangement appropriately minimal until the drum track gears up for the song's peak moment. The hypnotic repetition of the previous tracks is fully realized on the nearly 8 minute "My Man", the simple rhythm and vocal arrangement setting the stage for shifts in mood and setting as drifting tones and warbling reverbs settle in and dissipate before rushing back in from the song's edges. Closer "Heaven" is the moment when Kairyte really cuts loose vocally, putting aside her cool and composed delivery for a vampy late-game climax before the EP rolls to a stop. It's all well-executed stuff that makes the most of atmosphere and toolset, developed to showcase FEE LION both as a personality and producer.