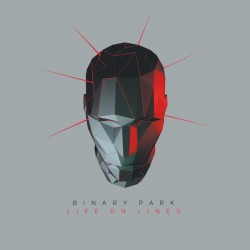 Binary Park
Life on Lines
Infacted Recordings
The main problem with Binary Park's 2015 sophomore album Singularity was its languid pace and lack of catchy songs; the trio of Torben Schmidt, Alfred Gregl and vocalist Huw Jones had all the tools as producers and performers, but the material just wasn't up to snuff. Third album Life on Lines feels like a step forward for Binary Park, adjusting the tempo and emphasizing melody to redress the imbalance between production and songcraft that has plagued them in the past.
Musically, the band are still working in the same vein of melodic electronic music with touches of EBM and synthpop as on their previous releases. To their credit, that mix is sounding very developed in 2018, with their impeccable modern sound design meshing different stylistic forms into a smooth whole. The pumping bassline and busy synth sequences of opener "Your Own Great Nation" might not seem like a natural fit for Jones' velvety croon as a vocalist, but the clarity of the mix fits them together in pleasingly cozy fashion. Ditto the guitar and piano on synth ballad "The Last Ones Alive", a song reminiscent of modern-era Depeche Mode in its lushness and warmth.
The material itself is by and large stronger than the preceding effort, especially when the tempos are kept more upbeat. Album highlight "How Strange" has a delicately articulated chorus from Jones, acting as a terrific counterpoint to the song's grinding synth bass drops and syncopated rhythms. "Faith Has Let Me Down Again" has a memorably plucky hook backed by straightforward rhythm track that flirts with funky deep house in intriguing fashion, exactly the kind of transparent genre fusion that they excel at. Even the weaker songs are pleasant enough – whether by virtue of strong, uptempo rhythm programming ("Normal", "Welcome Home") or funk-lite grooves ("Cropper 2", "Dream Like This") the album consistently stays in agreeable listening territory. There's still a smattering of underwritten numbers amongst the 12 tracks, but they're more unremarkable than out and out bad.
The cohesion of Life on Lines means that it's probably best consumed as a whole. Its best cuts are fine on their own, but their strength is reinforced by taking them in with the rest of the record, bolstering their congeniality and urbane sensibility. It's a good look for Binary Park, who feel like they're hitting their stride in terms of writing and execution, producing music that hints at still greater possibilities for them moving forward.