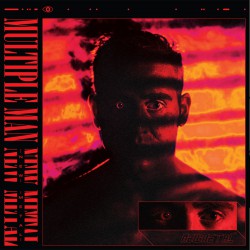 Multiple Man
New Metal
DKA Records
The first LP from Australia's Multiple Man is far more than the sum of its parts. Sure, classic EBM and post industrial sounds carried by a of funky bassline is a standard operating procedure for every song on New Metal, but what makes the record really pop are the subtle and overt nods to all manner of synthesized dance music from the eighties onward.
A lot of those tropes are going to be fairly easy to spot, especially over multiple listening sessions. "Ideal Self" invokes The Art of Noise's choppy funk and Yello's synthetic vocal work, while the bleepy pitched up toms on the terrific "Power Fantasy" can't help but bring M/A/R/R/S' "Pump Up the Volume" to mind. There's a healthy amount of electro and pre-sampling hip hop to be found between the cracks of "Luxury Boys", filling out the growling bass synth groove. Of course the songs don't begin or end with the aforementioned sounds, and kind of like High-Functioning Flesh (a modern act with whom Multiple Man share some DNA) the canny listener can make a game of triangulating influences and see where and how they're morphed into new forms.
A goodly portion of what makes New Metal work so effectively is in the composition and construction of these songs. There's an adeptness in the way a track like "Hotter than Hell" uses percussion to create a sunny and tropical feeling, and in the spacey echoes that transform the bassline from body music to dub and back depending on how they're situated in the mix. Same with the buzzy synth that pops up midway through "Skin", adding some serration to the track without ever upsetting the upbeat bounce of its rhythm programming. Multiple Man prove to be real students of structure in electronic dance music, knowing exactly when things need to be perfectly quantized, and when they need to be allowed some latitude and unpredictability.
It might be strange to praise such a wide-reaching and high-spirited record for its efficiency, but it might just be the most important part of Chris and Sean Campion's approach. For an eight track LP New Metal has remarkable depth and broad appeal, all without repeating itself or falling victim to overreach in its approach. It's a hell of a feat, and is one of the most enjoyable and compulsively listenable records of 2017 thus far. Recommended.