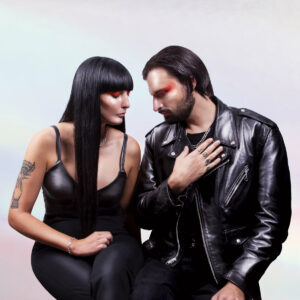 Ultra Sunn
Kill Your Idols
Fleisch
Belgian darkwave duo Ultra Sunn broke through in 2021 with two EPs; Night is Mine, a collection of a few previously released tracks that showcased a traditional electro-darkwave sound with some body music and new beat leanings, and Body Electric which saw them working in the more au courant wave of the style led by the likes of Boy Harsher. While 2022's double A-side single Summer 22 saw Gaelle Souflet and Sam Huge favouring the latter sound to the point of losing some of their more distinctive elements, new EP Kill Your Idols redresses the balance somewhat, with the project finding small ways to tangibly assert their own identity.
Musically, the tracks maintain the duo's emphasis on dancefloor oriented arrangements, and vaguely sinister atmospherics. Without overly changing their approach, Ultra Sunn have found lots of little touches that give the songs some intrigue beyond their standard-issue rubbery basslines and gated reverb snares. Sometimes it's something subtle such as the funky cymbal and clap pattern that inject "The Great Escape" with some disco swing, and sometimes it's glaring, such as the atonal and feedback laden guitar that takes over "Kill Your Idols", slicing through the fog machine ambience for a coldwave makeover. Pre-release single "Can You Believe It" shows some additional growth in terms of programming and design, filling out the simple bass-led cut with tasteful drum fills, synthlines that reinforce and signal shifts in the arrangement, and some of Huge's best vocals to date.
On that topic, Huge remains one Ultra Sunn's best tools for setting themselves apart. He consistently goes for a bold and transparent style of delivery, as opposed to the low-key whispered singing currently in-vogue with darkwave vocalists. Hear how he punches in his syllables in rapid fashion on "Speed", beefing up a song whose detuned lead and syncopated bassline are fairly stock. Similarly, "Set Yourself on Fire" isn't the most inspired cut instrumentally, but he adds some gusto in each lead-up to the half-yelled chorus for some welcome punk energy.
While limited in terms of variety, the EP format of Kill Your Idols gets Ultra Sunn a pass in this instance. That said, now that Huge and Souflet have shown the capacity to play with their established template, it'll be interesting to see if they expand further stylistically, with more varied tempos and song structures. Their trajectory over the last two years suggests they have the capacity to rise further above the darkwave soundalikes, provided they keep exploring their own strengths and unique qualities.