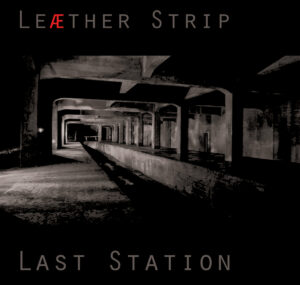 Leæther Strip
Last Station
Læbel
Claus Larsen's larger work as Leæther Strip should need no introduction to anyone reading this site, but it might be worth reminding some of the particular iteration of dark electro and EBM Larsen has settled into. Since 2014's Æscapism (if not earlier), core Leæther Strip records have traded in a stripped-down sound which puts Leæther Strip's core themes and influences in a brighter and more direct light than early records which were shrouded in more atmospherics. It's a groove Larsen continues apace with Last Station.
From "Lost In The Flames"' ghostly stomp, to the monochrome, minimal wave-tinged title track, Last Station has plenty of 'less is more' moments. This contemporary Leæther Strip approach is one which finds equanimity between a clean, minimalist style of instrumentation and arrangement and the heart-on-sleeve, emotionally plaintive lyrics Claus has favoured through much of his career (when he's not lamenting the futility of trench warfare on "Dead Soldiers").
If you're a longtime LS fan, you'll be able to track the subtle track to track differences which point to the wider range of sounds and influences Larsen has touched upon in his now 30-plus year career. There's the disco and synthpop pulses which lie at the base of tracks like "It Cuts Deep" and "I'm The Accused", while "Negative Space" is build upon the sort of blunt, stabbing lead which first defined the intense and frenetic sound of early Leaether Strip releases. The likes of "Flammen Und Flüsse" and "Can I Fake It" have the grimy EBM rage of the Klutae side project – while Larsen's kept said project going, it and Leæther Strip seem to be slowly drawing closer to one another stylistically.
If there's a downside to this direct and unrelenting approach, it's simply that at 79 minutes (not including a pair of bonus remixes) there's perhaps too much of Last Station to put its different approaches in clear contrast to one another. No tracks feel weak in and of themselves, but the differences between some of them can be so subtle that their individual charms can become blurred across sixteen tracks. Still, too much new Leæther Strip is a problem we're always happy to have, with Larsen still going strong and delivering the sort of tunes which first made him such a unique presence within dark music.