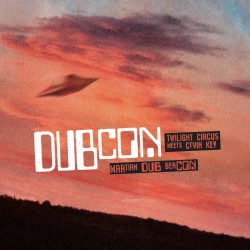 Dubcon
Martian Dub Beacon
Metropolis
When the first dub collaboration between cEvin Key and Ryan Moore made its way to the listening public a couple of years back, I found it a handy cheat sheet for the respective approaches each man's taken to dub when they indulge in it. The skittery and resolutely weird strains of techno Key's been pushing with Download and other projects in the aftermath of the initial Skinny Puppy dissolution was there, alongside Moore's devotion to the classic dub he's pursued as Twilight Circus since leaving The Legendary Pink Dots. U.F.O. Pon Di Gully Side reflected that aesthetic contrast, often alternating between traditional, lo-fi dub tracks and more produced and digitally driven ones. That tension's simmered down to a question of the most subtle shifts on Martian Dub Beacon, which offers a pleasant and mellow trip through otherworldly dubspace.
Sampled and processed guitars and voices traipse their way across most of Martian Dub Beacon's tracks, but these feel more like shade being applied to an existing structure: the focus of these pieces is resolutely on the rhythm section. The subdued, tremoring bass sounds which run through most of the record give it a dark and contemplative mood, but it never ventures into the disquiet or, um, upset which mid-period dubs by the likes of Lee Perry and Mad Professor did. "Watching And Wondering" and "Dub Beacon" use bass frequencies ebbing and flowing in and out of the range of the human ear to lend an air of mystery to simple enough structures. The latter's one of the rare tracks (along with "Can You See The Daynight") where clear touches of Key's electro production lineage actually crop up, though the slight synth programming simmering just beneath the bass and percussion likely wouldn't feel out of place on wholly traditional dub releases.
With a couple of extra years on the stove, the stew Key and Moore have been working on's cooked down into a more subtle and well-blended dish. Is it a more "traditional" dub record than die-hard Key fans might hope for? Perhaps, but speaking personally, noting just how well-versed he and Moore have become in working in such a particular and well-defined musical genre is its own reward. If you're tuning into the Beacon closely enough, you'll hear the same affinity for the shadowy, the stoned, and the strange as you've come to expect from Key and Moore from their earliest days, even if it's being communicated in a Martian tongue.