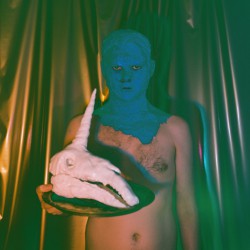 QUAL
The Ultimate Climax
Avant! Records
The distinction between William Maybelline's work in celebrated minimal synth act Lebanon Hanover and his solo project is fairly pronounced. Where the former is defined by a cool, urbane Euro-synth sound, QUAL flips introversion to anger and inverts minimalism to brutish force. In the vein of 2017's Cupio Dissolvi EP, Maybelline has steered new album The Ultimate Climax towards even rougher sounds, forgoing dirgey moods for tense and ugly atmosphere.
While not a straight EBM record by any means, the body music influence on QUAL isn't hard to suss. The kick-snare drums and hi-hat programming of "Take Me Higher" lay the groundwork for a simple bassline and a squeaky 242-esque synthline, slightly at odds with the deep monotone vocals. "How Many Graves" takes it even further with a driving 16th note engine, metallic percussion samples, and a litany of shouted questions that comes across as demands. Tempo and density of arrangement is the primary way emotion is modulated, with "Disease X" allowing an organ like pad to flow over its squelchy bassline to suggest isolation, and the zippy sequences of "On My Death Bed" setting the stage for Mabelline's desperate cries of "I'm drowning! Fucking drowning!"
There are some intriguing variations in the record's structure, providing the record with some diversity in presentation. While still very similar in terms of construction and instrumentation to the surrounding tracks, "Above Thee Below Thee" goes for full-goblin vocals, invoking black metal on an otherwise down-the-pipe dancefloor tune. Opener "Black Crown" is by far the record's most atmospheric song, spacing out the beats and synths and bathing them with vast swathes of reverb. And closer "Existential Nihilism" is one healthy dose of saturation away from being a rhythmic noise track, pounding its way to an inevitable conclusion with jackhammer kickdrums that get progressively more manic in the song's final moments. Acrimony is still QUAL's watchword, but these stylistic experiments give some much needed texture to the proceedings.
Oppressive and choleric by design, The Ultimate Climax isn't exactly a pleasant record to spend a lot of time with, although its relative brevity and emphasis on rhythm keep it from being a drag. It commits fully to sneering antipathy, distinguishsing QUAL as the outlet for Maybelline's most antisocial thoughts and impulses.