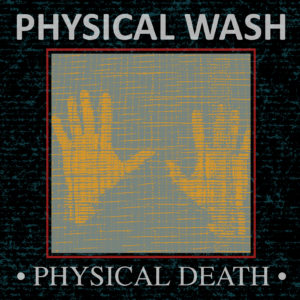 Physical Wash
Physical Death
Studio Flesh Industries
The indefinite hiatus of High-Functioning Flesh (detailed at length over at Talking To Ghosts) was certainly a bitter pill to swallow. The duo of Susan Subtract and Greg Vand released some of the best body music of the past ten years, and were at the forefront of the new wave of California bands reappraising that sound from a variety of complementary perspectives. While the minimal synth and stripped down house work of Vand's DIN project gave us a clearer sense of the flavour he brought to HFF, the question of where Subtract would move next was an open one until now, with the release of his first solo EP as Physical Wash.
Physical Death bears a clear lineage to Subtract's extant work, being full of the same funky EBM grooves, squelchy melodies, and stabby samples which made records like Definite Structures such immediate favourites here at the ID:UD HQ. Tunes like "Faith" and "Deprived" bring analogue warmth, with their basslines submerged deep amongst programmed percussion and brighter leads. While groove and funk have been part and parcel of Subtract's work ever since High-Functioning Flesh loosened up from the strict EBM of their debut tape, the core foundations of his tunes have rarely given as much space for easy-going head-nodding.
As loose as it might be, Physical Death isn't just indebted to Subtract's sense of how even the most raw of synth-punk owes something to funk. The influence of Skinny Puppy's smeary samples and psychedelic washes has always been present in his work, but the cadence of "Blind" brings Ogre's biting lyrical style and the quavering synths of Key's earliest compositions right to the front. It's a rare example of an overt influence making its presence felt in Subtract's music, and its sharp contrast to the home-brewed style cultivated over previous HFF releases only points out how unique the latter is without feeling like too much of a diversion.
That Subtract's been able to find a way to continue to leverage his considerable intensity and charisma as a vocalist is welcome news for those of us who've been anxiously twiddling our thumbs since High-Functioning Flesh went on the shelf. That Physical Wash looks to carry forward so many of the things we loved about that band with a slightly looser swing is even better. The particular similarities and differences between the two projects may be yet to fully come into focus, but for now Physical Death keeps the beat.
Buy it.