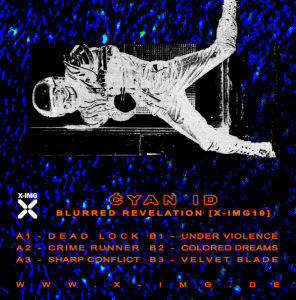 Ćyan ID
Blurred Revelation
X-IMG
Despite having one foot clearly planted in Berlin's ongoing techno/industrial crossover, anyone who's been tracking Emad Dabiri's work as Sarin from the beginning knows that he also has a clear yen for roots EBM which has been carried over to the releases on his X-IMG label. Information on new find Cyan ID – the just founded project of Georgian producer Giorgi Bekurashvili – is scant right now, but it's clearly an entity with an affinity for the classics. Rather than trying to go as hard or as distorted as possible just for extremity's sake, the majority of the Blurred Revelation EP is given over to hooky and addictive basslines with just the right amount of melodic and harmonic programming. Properly schooled rivets should be able to clock the dark electro flavour in the faint, tense chords shifting way in the background of "Dead Lock", effectively buried by rubbery bass and kicks, and in the spooky choral pads of "Under Violence". Hell, there's even a brief detour into something resembling aggrotech territory on "Sharp Conflict". A pair of more modern techno-driven bin-rattlers close things out, perhaps callbacks to some compilation appearances and the Cell Of Glory EP from earlier this year.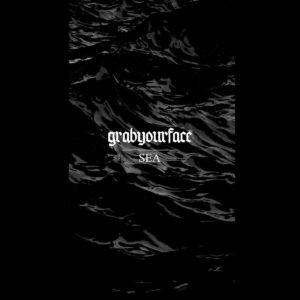 grabyourface
Sea
Negative Gain Productions
Marie Lando's grabyourface has been flitting around the edges of Our Thing for a while, partaking in collaborations with the likes of Covenant and Caustic, and releasing a number of stylistically restless EPs that flirted with electro, nu goth and harder industrial sounds. Forthcoming EP Sea is the most cohesive statement from Lando thus far, and cuts far deeper into the dirgey style suggested by last year's Summer on Saturn. Songs like "sombre" trade in downtempo beats and murky lo-fi guitars, with Marie delivering vocals in her trademark half spoken and half sung delivery. In contrast the delicate piano and slowly rising pads of "somewhere else" slowly build intensity, dragging Lando under the waves that slowly lap at the edges of the mix. The release's undoubted highlight is the excellent "shore", where Lando vomits out a litany of insecurities, recriminations and desperate confessions before the song's hard hitting chorus of bubbly bass synth and whip crack snares hits. It's an emotional roller coaster to be certain, and one that benefits from being surrounded by less fraught numbers like "so" and the mournful title track. A solid effort from an artist who has been promising big things for a while, and is starting to deliver on them.