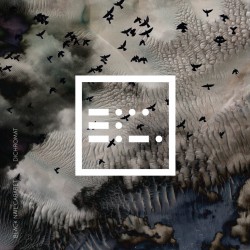 Black Nail Cabaret
DIchromat
Basic Unit Productions
For better or for worse, the best and most remarkable thing about Hungarian electropop group Black Nail Cabaret has always been the astonishing voice of Emese Árvai-Illés. Her cool, sophisticated and incredibly deep (both in terms of actual range and the amount of emotion it can contain) vocals are so striking that they make it difficult for BNC's instrumentals to rise to an equivalent level.
Dichromat is the first Black Nail Cabaret album since the departure of founding member Zsófia Tarr and the installation of Krisztián Árvai as a full time member. Krisztián has long been involved in the group in a production capacity, and consequently the change in membership doesn't seem to have led to any major shifts in the project's formula. Much like their other records, the most successful moments here are the ones where the songs stay out of Emese's way, but possess enough personality to feel worthy of accompanying her.
That's surely a difficult balance to strike, but when the group hit the mark the effect is frisson-worthy. Opener Sister Sister goes heavy on hissing synths and slappy snares, allowing Emese's reverbed voice plenty of room and lifting her high overhead on the double-tracked chorus. "Minor Panics" builds effectively from a minimal verse, blooming into a lush and verdant chorus that leaves trails of synth trills and artificial horns in its wake.
There are no major missteps to point out on the record, although its sad failing is in too often being workmanlike when it could be grandiose and elegant. "Orgasm" has moments of great beauty in its arrangement, but keeps retreating from them for some reason, leaving Emese's croon to do the lifting. And "Freak of Fancy" feels like a full-on mismatch, going for a low-key and bemused mood to the point it collapses under the weight of Árvai-Illés' gravitas. Neither song (or any song on the record for that matter) is bad, but they can't help but feel like missed opportunities given their potential.
And yet, Dichromat remains a showcase for Emese Árvai-Illés, and that alone gives it a major boost on the enjoyability scale. Listening to her confident delivery on the shuffling pre-release single "We Like to Suffer" you can't help be swept up, with the song shifting effortlessly from a half-smile to a gut punch in the space of a few lines. As the LP draws to a close on "Soon" she delivers one of her most powerful performances yet recorded, subtly playing back her volume but imbuing every syllable with breathy strength and carriage. A few more tunes at that level would do a lot for Black Nail Cabaret's workrate, and serve to deliver on some of that vast and still unrealized potential.