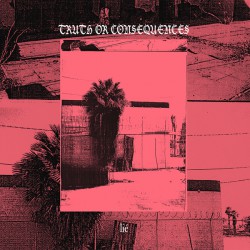 lié
Truth Or Consequences
Monofonus Press
The sense of palpable danger which hung about lié's excellent 2014 LP Consent has exploded into harrowing violence in their live sets over the past year and a half. The new tunes which have been showcased up and down the west coast brought a fury to the trio's 'cold punk' template which felt like a natural extension of their songs excoriating rape culture, but was also so raw I wasn't sure if it'd transpose properly onto record. Thankfully, Truth Or Consequences fully ports over the speed and noise which lié have been plying of late, and also brings into focus some of the rhapsodic structures of that new material.
The core elements of lié's sound – swiftly roaming bass, blurred-out high-fret guitar jangle, tight punk guitar and imposing vocals from Ashlee Lúk and Brittany West – haven't really changed all that much since Consent in and of themselves. Rather, they've just been compressed. Tighter, faster, and more frantic, each member of lié speeds through tunes like "Truth" as though their lives depended on getting as much sound on record as quickly as possible. When Lúk and West trade-off vocals, as on "Failed Visions", the effect is positively disorienting and near panic-inducing.
That said, for a record as brief as it is (nine tracks in twenty-three minutes), Truth Or Consequences avails itself of some musical and thematic shifts which I'll admit to possibly having lost in the blur of their live set. For every one-minute wipeout like "Monumental", there's a song like "I Am" which builds slow, pulsing tension with nodding bass and distant, blurred vocals before exploding into a storm which perfectly straddles the deathrock/post-punk boundary. "I Am" and "Truth" also dig into some lyrical territory which seems far more internal and psychologically oriented (something perhaps tapped into by the video for the latter) than the directly political ends of so much of their work to date. I'd hazard a guess at "Failed Visions" being about Lacanian desire, but let's not go too off the rails. Suffice it to say, some murkier questions about the self and motive are being probed here.
lié are a battle-tested, road-hardened unit at this point, perfectly ready to blow any band they share a bill with out of the frame. Folks in Vancouver have been able to testify to this for some time now, but with Truth Or Consequences they're putting the rest of the world on blast. Strong, strident, and vital stuff.