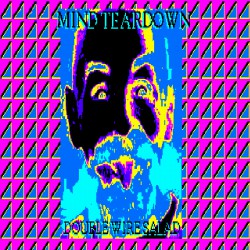 Mind Teardown
Double Wire Salad
XOS Musick
Domagoj Kršić's more well-known project Cyborgs On Crack has always had a fair bit of the rivet in its mutant DNA, albeit shot through with plenty of tripped out psychedelia. Dom's work as Mind Teardown strips away some of those brighter aspects of his production, focusing on a rougher post-industrial aesthetic that works as a solid compliment to his DIY sound. The latter project's latest Double Wire Salad eschews direct retro nods while still hearkening back to the sounds and styles that defined the genre in the late 80s and early 90s.
Half of the release's six tracks are given over to more straight ahead bangers, built around speedy drum kick-snare patterns and the use of canned electric guitar. Both "Metal Crash" and "M.D.W." are speedy excercises, firing off numerous vocal and mechanical samples between barrages of processed power chords, all carried by metallic synth bass sounds. "Lamer Exterminator" slows matters down somewhat but really amps up the bounce of the rhythm track, with some of the resultant funk serving to buoy its delayed and distorted vocals and syrupy pads.
The other half of the record is a showcase for Kršić's knack for hybridized sounds, integrating some different styles and structures into the mix. Closer "Biomekanoid" somehow turns the same drum and synth sounds used on the songs that precede it into what amounts to a dub reggae number; looped bass, synth organ and snare hits arranged into an unexpectedly laidback and tropical whole. "Corny Rap" wryly sets samples of political rants by legendary pro-wrestling manager Jim Cornette against a "Dig It"-esque backbeat, the joke coming at the end when Corny turns his ire towards rap music.
It's those oddball decisions that have marked much of Kršić's work thus far although it's open to interpretation just how much of it sardonic clowning and how much is Domagoj being unconcerned with genre and stylistic limitations. Double Wire Salad has plenty of moments that can be read either way, right to the end of the record where a speech synthesizer to tells listeners to check out his other albums and projects, a charmingly eccentric touch that literally and figuratively feeds directly into the larger body of work. Even at his most rigid and aggressive Kršić can't not bring some weirdness to the table.

Buy it.