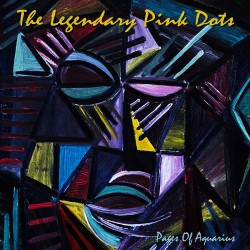 The Legendary Pink Dots
Pages of Aquarius
Metropolis Records
Listening to a new Legendary Pink Dots record is kind of a fraught experience in these parts, a feeling I can only imagine is shared by a lot of fans of the long-running psychedelic experimentalist collective. Recent years have found the group reduced to the trio of original members Edward Ka-Spel and Phil "The Silverman" Knight, and veteran (despite having joined the band some 24 years into their run) guitarist Erik Drost, with the scope of their wild, spacefaring psychedelia turned inward to an often mournful mood. Pages of Aquarius doesn't do much to buck that trend – it's still a sad and gloomy listen by turns – but also manages to invoke some of the otherworldly weirdness that has always been their watchword.
There's a few upbeat numbers here, and welcome they are. "D Train" finds unmistakable Ka-Spel in his understated whispery mode, set against some tremolo guitar, bursts of analogue synth and an appropriately chugging rhythm. Opener "Mirror Mirror" goes deep in the style of older LPD rock numbers, with clattering drums, fuzzy chords, electric organ, reversed synthesizer and samples of broken glass. It's not even that these are happy songs per se (indeed the latter seems revolve lyrically around some pretty rough self-assesments from Edward), but they are possessed by enough energy to not seem like sad sack ruminations. It's a welcome mode for the group, especially on the pseudo-exotica of "Touching the Forelock" where the band sounds no different than they have at any time in the last 30 odd years, unfettered by age or loss.
That said, the band can do indulge in some pensive moments. These are perhaps the most straightforward songs from a writing and arrangement standpoint, see "Credibility" which revolves around a simple piano and Ka-Spel's voice, with tasteful application of guitar and synths for good measure. Similarly "Prodigal" is a decent little ballad in the classic vein of the band, all mournful sighs and swelling analogue pads. It's not that these are bad songs, in fact they're both quite lovely, but they reflect the pervasive sense of twilight that seems to be the Dots' main condition these days. Whether or not the songs literally reflect the travails of working this long and this hard, and producing this much music is anyone's guess. But it's hard as a fan not to imagine that these numbers aren't somehow pointing towards some kind of finality, whenever it may arrive.
It may well be that other longtime fans will read Pages of Aquarius entirely differently. There's a strong possibility that they might; the deeply personal way LPD fans interact with the band's expansive catalogue makes broad generalizations somewhat meaningless in the grand scheme of things. If nothing else, the two massive multi-part movements that close the record "Don't Go There/Page/Aquarian/Jacob's Ladder" and "The Weight Of Water Parts 1-4" point to the breadth of their ideas and the locales that the band are still making the time to visit, still travelling to the furthest reaches, still singing while they may.