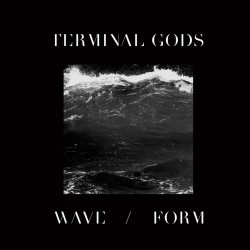 Terminal Gods
Wave / Form
self-released
What's in an LP? A collection of existing tracks would sound as sweet. Sorry for the tortured conceit, but the case of Terminal Gods' first record proper has me getting a bit philosophical. It's been five years since the dark London rockers' first demo, and between various singles and EPs they released nearly twenty tracks before the arrival of Wave / Form. It seems odd to term a release of arbitrary length a "debut" given that history and the stylistic shifts the band have gone through, but rock's one of the few remaining areas where the album proper still holds some weight. Thankfully, any folks just tuning into the leather-clad doom patrol will be getting a solid cross-section of the best modes and tunes from their early work, plus some new tricks.
I've noticed a tendency towards some more dour moods in recent tracks by the band (note the distinction; despite being schooled in classic gawth, early singles like "Electric Eyes" and "Lessons In Fire" were never gloomy), and at the outside Wave / Form looks as though it's going to be a trip though bleaker terrain. "Shockwave" and "Monolith" mark the early part of the record with a that's sound more sparse and painfully desperate than previous work, but there's a lot more in the deck than pure misery. "Changing The Guard" calls to mind the brighter, more harmonic side of The March Violets (or possibly even Play Dead or The Damned), with Robert Cowlin's impassioned yelps being offset by a softer instrumental bed, including acoustic strumming.
Further surprises await on the second half. "Connection & Rupture" certainly has one foot in the band's past, but the cooler harmonies and synths point more to post-punk, hell, maybe even early Simple Minds, given the mechanical dance beat. And of all things there's a line lifted from Moz in there? "Discovery" is more in keeping with the churning pummeling set forth by the group on Machine Beat Messiah, minus that EP's Americana fixation. In short, we're a long way from the band that was pigeonholed in the early going as a Sisters clone revival. Speaking of their earliest points, stone classic "Electric Eyes" is reprised, perhaps for those just getting on the bus, but it too has been transformed by the interim years, with the guitars holding back a bit so that the vocals can deliver all of the sparks and fury. It remains one of the best rock tunes I've heard in the past decade, full stop, and is more than deserving of a victory lap on the Gods' big day out.
Like plenty of their influences, Terminal Gods have always prioritized rock, in the broadest sense, above niche genre concerns. They're staying true to as many manifestations of that Terpsichorean muse as they can muster on this concise yet varied LP, and may yet remind some younguns of the value and power of that moldering old format.