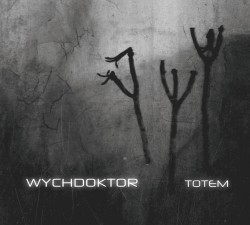 Wychdoktor
Totem
Self-Released
Ottawa's Wychdoktor wouldn't be the first artist in the tribal industrial game to put out what amounts to a dark ambient release, although the shoe fits the project particularly well. Not unlike easy touchstone acts iVardensphere and Worms of the Earth, the one-man project has always spiked his distorted rhythmic work with heavy doses of textured sound, layering them into pieces both uptempo and down to lend depth beyond the pummelling percussion. On Totem Wychdoktor focuses intently on atmospherics while still keeping his more immediate charms within sight.
The first half of the record is especially heavy on the dark n' hazy sounds, with an emphasis on drones and heavily reverbed samples slowly making their way through the stereo spectrum. While the occasional spot of melody will pop up as on the brief plucked lead of "Ancients", from the title-tracked opener through "Underworld" what you'll hear is mostly heavily designed blocks of obsidian sound. It works well, with each piece flowing easily into the next, Wychdoktor keeping things especially loose and liquid structurally without fading into the background. Especially at louder volumes where the bass becomes more physical, the music can envelop the listener and become a more viscerally physical experience.
It's in the latter half of the record that things get a little more songlike. No less concerned with opaque ambience than the first six tracks, numbers like "Catacombs" and "Walking the Crooked Path" bring sepulchral percussion to the mix, the rhythmic elements allowing the soundscapes to coalesce more fully. Never going into the full-on rhythmic noise that has marked some of Wychdoktor's previous material, the rumbling drones of "A New Way to Die" and splashes of heavily processed guitar that accent "A Forest" suggest experimentation with form and an attempt to add structure without forcing any of the pieces into typical musical modes or breaking the cool climate of the preceding numbers.
If last year's excellent Ritual was more easily digestible for those familiar with power noise and its attendant associations, than Totem is likely an easier sell for those folks familiar with dark ambient, all the way up to and including of-the-moment artists like Haxan Cloak. Fans of the earlier material needn't worry too much about the dearth of pummelling beats, so long as they were hip to the project's more esoteric charms as well. If anything this Totem is a much better indicator of Wychdoktor's skills as a sound designer and the shadowy and expansive possibilities available to him in future.