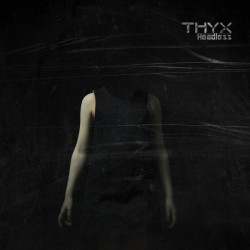 THYX
Headless
Metropolis Records
Headless is Stefan Poiss' fourth record as THYX since 2012, doubling his output with his more well-known project mind.in.a.box in that time. While the scope of THYX's sound has been wide-ranging, including production and songwriting ideas familiar and new to his repertoire, this latest LP might be the most cohesive from an album standpoint. Coincidentally it also feels like it has the most in common with m.i.a.b.'s current work, sporting a sleek and shiny electro-futuristic sound that relies heavily on Poiss own personality as a vocalist to connect with its audience.
Considering his acumen as a programmer and arranger, it can be easy to forget how effective Stefan Poiss is as a singer. This might also be due to his penchant for extreme use of vocal processing, taking on characters that feel wholly natural but distinct from his standard delivery. Some of the LP's most affecting moments come from the former camp, such as the glowing "Doomed", where a pitched up vocoder weaves its way through innumerable synth lines, reedy pads and stretches of drum programming complexity. He becomes even further abstracted on closer "Free" where the effect feels like it's malfunctioning, lending additional melancholy to its already somber mood. Even when dialled to less extreme modes it's an effective tool, as on mid-tempo groover "Don't Get Alive" or as a counterpoint on the growling opener "Not My Deal".
On an entirely different tack, one of the most interesting things Poiss has been doing for the last several releases has been indulging his penchant for wailing rock vocals. Here they're mostly paired with the familiar monotone he's honed across much of his work with mind.in.a.box, for a subdued versus ebullient dynamic. It works for numbers like "Headless" where crunchy guitar sounds give way to soft electric piano sounds on the chorus, and gentle ballad "The Phile" with it's gently shimmering climax. When Stefan goes all in on his melodic delivery on it provides an album highlight in the form of a proggy electro-rock workout "Pain of Silence".
It might seem odd to focus so heavily on the vocals of an artist so lauded as a producer, but the more you listen to Headliess the more struck you are by how integral they are to what Poiss is doing with THYX. The production and programming on the album is top notch of course, and distinctive to anyone familiar with his now considerable oeuvre, but it's in occasionally separating the producer from the performer that we gain a new appreciation for both elements of their work. In THYX Stefan Poiss has settled into maybe the most distinct iteration of his persona, and the effect for fans is charming and enjoyable.