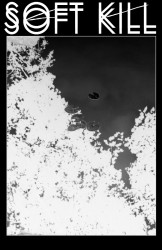 Soft Kill
Circle Of Trees
Pagan Day
When Portland's Soft Kill emerged as an offshoot from the doomy, lo-fi despair of Blessure Grave, their debut LP An Open Door was perhaps viewed too rigidly through a comparative lens. The differences in the projects were stark and immediate: Soft Kill was classically post-punk where Blessure Grave still bore the marks of millennial goth-tinged post-hardcore, melancholic where Blessure Grave were harrowing, smoothly melodic where Blessure Grave fidgeted with dusty unease. Sophomore album Circle Of Trees doesn't break from the regions of post-punk where Soft Kill set up camp on An Open Door, but it does offer some differences, and moreover consolidates the band as an entity fully separate from Blessure Grave and capable of holding its own with a clear and strong aesthetic.
The core elements of Soft Kill's sound remain the same on Circle Of Trees: slowly chiming guitar lines which flit over steady bass, Toby Grave's echoing baritone punctuated by triggered toms (an effect which distinctly connotes Pornography at times). That said, there's a sparser feel to those components on Circle Of Trees. At first I was wondering if the new record featured a cleaner, almost antiseptic mix, but some quick referrals back to An Open Door didn't bear that out. Instead, I think it has to do with a more artfully wistful tone to the compositions themselves which communicates a more ethereal feel, as on gossamer instrumental "Vesper".
Grave's vocals only add to this ghostly vibe, often hovering above the instrumentation as though they're being intoned from the attic above through ventilation ducts. The grimy squall of the keyboards and bass provides a nice counterpoint to the icy sheen of the keening vocals on "Vacant Home". Later, those same vocals are given an equally offbeat platform on the robo-funk of "Untitled", where the bass' lock-groove is accentuated by rubbery synth drums, and Grave vamps like the ghost of Danzig gatecrashing a karaoke disco night. On the complete flip-side the resigned weariness of the title track's vocals find a perfect match in delicate, unassuming amplified acoustic guitar. Turning another corner, the harp, cold desperation of "Nine Years" towards the end feels like a panicked awakening in the dead of night, sandwiched as it is between more sedate tracks.
Using the interplay between vocals and instrumentation as a thread while listening to Circle Of Trees has brought to the fore the range of moods and songs Soft Kill have crafted using the core building blocks of post-punk. Yeah, I could play the boring old "name-drop as many obscure post-punk influences as possible" game, but until Adrian Borland's estate starts mailing me checks there's no need to, especially when a band comes correct with a varied and strong batch of songs that are tied together by its own character. Soft Kill are firmly out of the shadows of both their origins and their influences on Circle Of Trees, and are standing in a darkness all their own.