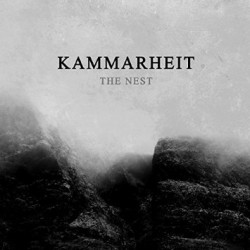 Kammarheit
The Nest
Cyclic Law
As a genre, dark ambient often deflates hype about "masterpieces" or a "long-awaited return". It's just not the sort of music to match common linguistic bombast about a record's position within its own genre or an artist's own discography. Even avoiding those terms, it has to be said that the new release from Kammarheit seems to carry with it more than the average sense of cosmic stoicism or pyschogeographic spelunking (ie, par for the genre). It's been a full decade since Pär Boström's last full release, The Starwheel. In the interim it's emerged as one of the best dark ambient albums this side of 2000, and still serves as an excellent primer in the moods and sounds the current generation of dark ambient producers are pursuing.
Were I the sort to ascribe subjective moods to a record and not just their creators, I'd say that new album The Nest is aware of the anticipation which has been built up around its arrival, and has opted to coyly deflect more earnest lines of investigation. In terms of core elements it doesn't differ so far from Boström's extant work – misty shades of resonant synth tones shifting overtop of one another with the odd peaking sine wave – but its presentation feels far more occluded than anything else. The record shifts and moves, is never impassive, and yet forever seems to be turning away from the listener, burrowing deeper into itself.
Metallic pads emerge, come into focus and slide away with no shift in attack or movement, as on the eerily resonant "Lower Halls". While rhythmic elements in this sort of work often gives the semblance of an objective frame, the near total lack of percussion on The Nest makes trying to pin down structure a far trickier proposition. Harmonically the album is somewhat more yielding, with minor shifts in tones mixed up front providing immediate segues from one moment to the next, even as larger structures hinted at, with refrains and passages present but out of reach, the aural equivalent of phantom limb. Throughout The Nest, Kammarheit's pieces carry a presence and weight which seems to exist wholly independent of the listener. Just as the stars couldn't care less whether or not we watch them or seek to place them in constellations, one almost gets the sense that The Nest's compositions are still operating at some metaphysical level even after the CD's stopped playing.
Paradoxically more lush and yet less inviting than The Starwheel, one begins to understand why the wait for The Nest was so long (the notes indicate a six year production cycle). It's perfectly in keeping with Boström's aesthetic and is a must-listen for anyone remotely interested in work of this style, and yet it seems to be holding something within itself not intended for the fan, no matter how devoted. Like an artifact from an Arthur C. Clarke novel, it's an otherworldly object whose resolute existence beyond the scope of our knowledge or experience only confounds us and draws us closer to it.