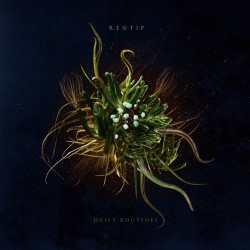 Rentip
Daily Routines
Crime League
Hailing form Prague (by way of Slovakia), Robert Rentip has been releasing experimental and drone material for a decade as half of Pre-Optimal Order (who, by the by, don't seem to shy away from the scatological implications of their moniker), but he's only now releasing a full LP of solo material. Arriving on Michael Morton of Displacer's Crime League label, Daily Routines offers a percussion-driven mix of IDM, electro-industrial, and pure sound design lushness.
Daily Routines, as its name suggests, is all about rhythm. This isn't to say that it's a relentless experiment in complex time signatures or, conversely, the sort of jackhammer assault which rhythmic industrial delights in, but just that the ebb and flow of percussive elements sits at the front of the majority of its compositions. The uptempo stutter of "Perfectly Preserved", sitting somewhere between the drum programming of classic Puppy and the near jazzy workouts of Winterkälte, slowly morphs over the track, adding and removing individual drum beats, or allowing others to mesh with the background hothouse ambiance. "Selective Memory Loss" maintains a steady beat, but the shuffling of the harmonies, melodies, and squelchy production tics which surround it make the rhythm feel consistently fresh and lively by placing it a constantly shifting dynamic.
Speaking of dynamics, the name which kept coming to mind as I listened to Daily Routines was Marching Dynamics, specifically the LA rhythmic industrial act's second LP, The Workers Party of Haiti. While that record's rhythms lent themselves more to dub and bass music than Daily Routines's technoid tendencies, the melodies, samples, and programming of both LPs all shift between concrete grinds, spacey trips, and fluid washes, while still resolutely orbiting the beat and keeping it in the spotlight.
Comparisons aide, Rentip's delivered a record that is fully engrossing on its own merits. I found myself at points wanting to add on to and augment the rhythms, drumming what shoddy fills I could muster on my desk while listening to the comparatively sparse beats of "Echoes", amongst other tracks. That doesn't mean that Daily Routines needs any help from me (or, on the flip side, that a record which turns you into a drum circle hippie will be embraced by loved ones and roommates), just the opposite: it presents a fully-fleshed out world of beats that you can't help but engage with.