Believe it or not, the podcast attached to this old can of paint just hit the two year mark this past weekend. Yes, it's been a full pair of trips round the sun since we first fired up a USB mic and armchair quarterbacked our way through a host of records new and old. Heck, we knew so little about what we were doing for the initial run that the first two episodes never actually made it onto iTunes (go listen to us blab about now-familiar records by Mr.Kitty and Distorted Memory if you want). Speaking of iTunes, hop on over and subscribe, rate, and review to We Have A Technical if you're so inclined. We'd appreciate it heartily. On to this week's Tracks!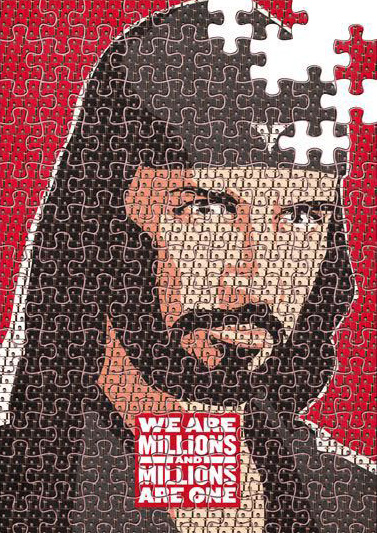 Laibach, "We Will Go to Mt. Paektu"
Okay yeah, so we all got a nice chuckle out of the John Oliver clip and yes, haha, it was very funny but holy shit guys, this is actually happening: motherfucking Laibach, one of the most subversive musical groups the world has ever known, is going to play concerts in North Korea, a true blue totalitarian dictatorship. That's monumental, and in the face of it we're not sure how anyone can be holding onto the whole controversy regarding their tour crowdfunding and their supposed disrespect for the industrial scene. Even as a purely symbolic gesture this is historic, and hey, if we get them doing more of these North Korean songs as part of the bargain, well so be it.

SΛRIN, "A.C.S."
Toronto's SΛRIN have quickly won us over with punchy and forthright techno/EBM jams that stress the bodily roots of those genres. Watch this space for a full review of new album Psychic Stress, but in the meantime check this rubbery track which keeps their vintage EBM style on lock just like one of the weapons systems which populate their tracks.

Haujobb, "Input Error (The Horrorist Remix)"
You hopefully don't need us telling you four days after the fact, but on the off chance anyone reading this doesn't know that there's fresh Haujobb in the water, here you go. The first taster of the forthcoming Blendwerk carries forward the tense and dry sounds which made New World March one of the best things about 2011. We already played the original mix on the podcast, so here's The Horrorist showing just how sympatico his work's been with the 'jobb's for years.

Gabi Delgado, "Hausarrest"
NSFW, depending on whether or not you work in the ol' S&M factory we guess. New stuff from the legendary voice of DAF is always welcome, but it's worthwhile to note that Gabi was amongst the first artists to draw a meaningful comparison between the strict tempo of electronic music and sexual discipline, and his current work is still exploring those themes. This is on the same smooth and pervy vibe as his debut solo record from the other year: not too shabby at all if you ask us.

Gabi Delgado – HAUSARREST (Official Video) – unrated version from denial of service on Vimeo.
Psyche & Luminance, "Passenger's Seat"
We got hipped to Belgian wavers Luminance a month or two ago thanks to a track they did with Agent Side Grinder's Kris Gripp. Looks like they're doubling down on the distinctive guest vocalist front with this new single featuring Darrin Huss of Psyche, a dude who needs little introduction if you know much about the history of synthpop, Canadian or otherwise. The collab will be released as a 7″ by the good folks at Artoffact, but in the meantime you can have a listen to both songs right their in the comfort of your own home. We're definitely feeling the dark vibe on this one, a definite contrast to the A-Side's slightly brighter presentation.

MDS51, "Darker"
Mean and looping grind from German death industrial/noise outfit MDS51. We don't know too much about the group, but they've been self-releasing a slew of tapes over the past few years, leading up to new LP Fear Reactor on Sleepless Records. This cut's slightly reminiscent of that Infiltrator record of a few years back with its connections between deep bass rumbles and classic industrial disturbance.