Replicas is the handle we use to write about reissues, offering some thoughts on the original release, and whether or not there are enough goodies to warrant a repurchase if you own a previous version of the album. In today's column we look at the reissuing of some German electro-industrial of a 90s vintage…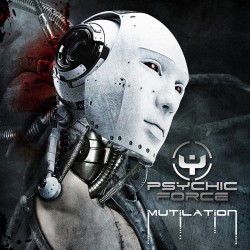 The Psychic Force
Mutilation & Traces
Alfa Matrix
What is it? The two albums by early 90s German dark electro act The Psychic Force have just been digitally re-released on Alfa Matrix. This comes on the heels of Michelle Christiansen and Jörg Charnowski reuniting for their new Relapse EP, which prompted some interest in unearthing 1992's Mutilation and 1994's Traces, originally released on KM-Musik, home of early work by Tyske Ludder and Individual Totem.
Mutilation is very much of its time, moving (at times awkwardly) from established electro-industrial to the speedier techno influenced sounds which would come to dominate so many dark clubs for the next decade. The link between The Klinik and early :wumpscut: (so often skipped over due to Rudy's debt to Claus Larsen) is well underlined here, with many of the markers of early endzeit on full display on Mutilation. That said, there's a bit of a clash between the doomed "oh shit, the technolocaust is coming, we're all FUCKED" tone of the distorted lyrics and the comparatively bouncy synth leads, at least by today's standards, and the relatively underdeveloped rhythms can begin to wear a bit thin (especially given the length of this expanded release).
Things have much become much more effectively dark and smooth on Traces, with a much better instinct for groove and restraint. Pads and synth textures feel far more developed than Mutilation's occasionally right-out-the-box sound. Christiansen's become a more confident vocalist, with softer and more melodic work being put to good use on the likes of "Killing Is An Art". A gutsy but quite enjoyable cover of John Foxx's "Underpass" points to the broader appreciation of mood and composition the band were pursuing at this point, and well-executed nods to earlier, spacier synth sounds are made on "Intervall II".
What's on this reissue? Bonus tracks abound on these digital re-releases, with six on Mutilation and seven from Traces, culled from various comps and demos. Covers of Boney M's ill-fated attempt at high-concept science fiction, as well as a more expected minimal wave number also crop up. Both releases have been remastered by Christiansen and Charnowski, but not having decent rips of the originals handy I can't speak to the difference.
It would have been nice to have the original artwork included in some form, maybe in a PDF with some brief comments from the pair about the original recordings. Yes, I understand the urge to give the records the sort of artwork you always wanted, but for my money the lo-fi charm of the original recordings applies to the shadowed fonts and graphics as well.
Who should buy it? If dial-ups, dice pools, and third gen tape dubs of Puppy albums made up your weekends in the 90s (not to get all autobiographical) then The Psychic Force's releases should be a fun revisiting of the sounds and moods you were looking for in those days, and the bonus tracks should seal the deal for anyone with original pressings still kicking about. Mutilation's appeal is predominantly historical, though die-hard fans of this particular era and sound will likely be pleased as punch at its renewed availability. Traces, on the other hand, gets a full endorsement as a strong yet subtle exploration of darker synth sounds which should appeal to heads of all eras.