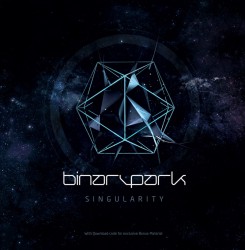 Binary Park
Singularity
Infacted Records
I wasn't as fussy about Binary Park's 2011 debut Worlds Collide as some folks I know. Despite being able to appreciate the highly developed sound design and production on the LP, the new project from longtime musical collaborators Torben Schmidt and Alfred Gregl, and vocalist Huw Jones felt unfocused and difficult to pin down. 2012's The Deviated EP suited me much better; the slick mixture of modern EDM sounds with body music and touches of darkstep was far more cohesive and showcased an excellent sense of how to use that toolkit to build actual songs. In light of the latter release's success, new album Singularity can't help but feel like a bit of a step back: while the technical quality of the recording is still top notch, the songs just aren't there.
That's a common enough criticism for plenty of genres, especially electronic music where studio acumen has long replaced performance as the most important skillset. And I should stress that there is nothing acutely wrong with any of Singularity: the programming from Schmidt and Gregl is top notch and contemporary, and Jones' confident voice sits smoothly somewhere between Seabound's Frank Spinath and Pendulum's Rob Swire. It's just that almost none of the songs stick in the mind after hearing them. It all flows by in a pleasant haze of "ooh, listen to that drum programming" and "my, that lead synth is tastefully sequenced", but never really reaches out to grab the listener on that basal, instinctive level.
A goodly portion of the issue can probably be laid at the album's languid pacing. Early numbers like the near seven minute "Empty Frame" and "Mute" idle in first gear, while later cuts like "A Higher Mind" pick up the pace somewhat but still feel subdued. When the album does break out somewhat, like on the instrumental "Stormchaser", the results are mixed: it's got a nice Glitch Mob-esque vibe, but the lack of Jones' vocals as a distinguishing feature means the song could be mistaken for any number of modern video game soundtrack productions in a similar vein. There are a few standouts (specifically the Distortion mix of The Deviated's "She's Insane" and the bouncy if still laidback "Wasteland"), but by and large the album is just too downtempo to ever engage on more than a casual level.
This certainly isn't an indictment of the skills of anyone involved with Binary Park, as Schmidt and Gregl have a healthy number of good records between them and Jones is quite a good singer when he has the material to work with. Nor is it an indictment of their approach to genre, as recent albums by bands like Front Line Assembly have proven you can mix industrial club music with tropes common to EDM and bass music to good effect. It really is the lack of catchy or challenging songs that makes Singularity what it is; nice when it could be exciting and polite where it could thrilling.