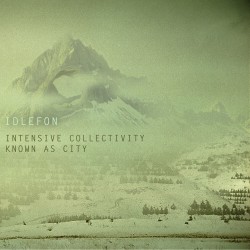 Idlefon
Intensive Collectivity Known As City
Tympanik Audio
As I noted just a month back, Tympanik Audio has done a crack job of carving out a niche and an instantly identifiable aesthetic for itself within the loose and sprawling worlds of IDM and technoid. With that being said, Idlefon's Intensive Collectivity Known As City seems to flip the purposes to which that aesthetic is usually pressed. Insular, tense, and never fully comfortable, this is a listen which seems calculated to disquiet nearly each and every time it appears ready to offer succor.
For being an ostensibly "ambient" release, there's something rather claustrophobic about Intensive Collectivity. Rather than calling to mind sprawling vistas or cosmoses, producer Hesam Ohadi's tracks on his project's debut feel resolutely pressurized (perhaps the title of the record isn't just a cute phrase). Sure, softer elements can be traced out and occasionally occupy entire tracks, as on the moody "Reminiscence" and on the washes of "Of Rust", but dusty click and cut glitches invariably seem to take the fore after any and all sentimental respites. "Ikigami"'s tersely plotted gasps and pulses almost invite the listener to track them out using pencil and paper. Other tunes keep such a clear line between atmospherics and shuddering percussion that it almost feels as though the album's being delivered via two channels, subtleties of stereo mixing and blending aside.
I should toss the caveat out that I've listened to Intensive Collectivity exclusively through headphones (sue me: I've been travelling for over a month and have been short on couch and stereo time), so it's entirely possible that this method of delivery is amplifying Idlefon's nervously navel-gazing vibe. Penultimate track "Pretend It's Spring" might have felt more expansive in another context (say, on Telefon Tel Aviv's Immolate Yourself, a record whose influence I can't help but hear in the background here), but after forty minutes of breathy uncertainty it's easy to be gunshy, although closer "Pickers Of Empty Cocoons" does finally yield some unabashed release with summery choral pads. Intensive Collectivity portends promise for Ohadi as a producer, both technically and artistically, although its particular brand of tension may or may not float your boat. Mileage may vary.