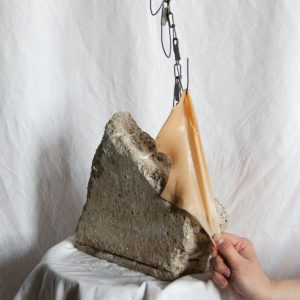 Drew McDowall
Agalma
Dais Records
Scottish electronic composer Drew McDowall's solo work exists in the shadow of his contributions to Coil; as a member during their prolific mid-to-late period, and one of the stewards of the catalogue post the death of Peter Christopherson, McDowall's work will inevitably always be compared and linked to that of the legendary industrial group. Whether or not that bothers McDowall (and there's good reason to believe it doesn't, as evidenced by his Time Machines tour and work for Dais on the various reissues they've undertaken), it does shape how many listeners approach anything new he does. In the case of his latest the subconscious and conscious links to his past work are in fact an asset: more than any music he has yet released under his own name, Agalma summons the majesty, beauty and dissociative emotional states of that legacy.
Drones are the building blocks of Agalma and are both intimate and alien. There's a comfort to hearing the unmistakably familiar sound that McDowall summons through them, the deeply impassive tones given quivering life through deep waves of subtle modulation and overt processing. Indeed, there's a real physicality and carriage to these deep synthesized and sampled tones that give them an almost physical carriageat proper listening volume. The tension between their overtly synthetic nature and the sparseness of their arrangement and their warmth and expressiveness provides a rich emotional foundation for McDowall and his collaborators to build from. It's unsurprisingly a somewhat melancholic record overall although there's definite shades within that: the foreboding and eventually cathartic release in the slow-motion build of the collaboration with multi-instrument experimentalist Robert Aiki Aubrey Lowe on "Agalma III" is distinct from the rattling disquiet of "Agalma VI".
It's often in the nature of the album's numerous collabs that McDowall's touch as an arranger and composer is best understood. "Agalma II" speaks to both his slowburn approach to assembling songs and the complex and evolving sequencing of Italian synthesist Caterina Barbieri's work, finding a rich internal complexity that deepens emotionally as the track progresses. In contrast "Agalma V" finds McDowall synchronizing with the meditative and minimalist compositions of Kali Malone in a manner that makes disquieting use of proximity, its sounds existing within a hairs breadth of each other without ever becoming one in the mix. The record's triumphant moment is the towering nine minute "Agalma VII (Toyor El Janeh)", where the efforts of Jordanian beatmaker Bashar Suleiman, sound artist and vocalist Elvin Brandhi and Saudi singer-producer MSYLMA are woven together into a wondrous whole, summoning and then losing itself in a vast and unknowable universe of sound.
For all of Agalma's abstraction and scope, it's never a record that you can't grasp, feel and experience. There's a very human comfort to be found in its halls, passageways and recesses, and a tangibility to the succor it can provide. With it, Drew McDowall has made a record that not only affirms his considerable contributions to the last quarter century of industrial and post-industrial music and experimentation, but stands alongside some of the great records of that tradition. Agalma is as profound and fascinating as it is arcane and numinous. Highly recommended.