Replicas is the handle we use to write about reissues, offering some thoughts on the original release, and whether or not there's enough goodies to warrant a repurchase if you own a previous version of the album. In today's column we pick apart the very earliest release by one of the most prominent voices in the North American industrial community…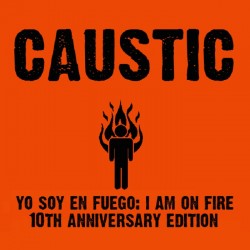 Caustic
Yo Soy En Fuego: The I Am On Fire 10 Year Anniversary Edition
Self-Released
What is it? It's been 10 years since I Am on Fire's original run of 100 CDrs, and in that time Caustic's Matt Fanale has become one the most prominent voices in the American industrial scene. To celebrate the anniversary of that original release and provide some context for the material he's making now, Fanale has assembled an everything-and-the-kitchen-sink version of the record dubbed Yo Soy En Fuego that includes all the extant remixes and alternate versions that previously appeared on Crunch Pod's I Am On Fire: Megaflamer Edition along with some previously unheard demos.
In his Bandcamp liner notes Fanale makes a point of noting the roughness of this release, and that putting it out with pay-what-you-want pricing on Bandcamp is to illustrate the process of his musical development. That's worth knowing going in for the first time: the earliest Caustic material is mostly rhythmic noise made with whatever software and equipment was at hand. Consequently it's a lot rawer than Caustic's stylistically similar This is Jizzcore and Booze Up and Riot and a lot less developed than his current stylistically omnivorous leanings. Still, the seeds of the project's evolution can be divined with little effort, with Matt's now familiar vocals appearing on the roaring "Minotaur" and the project's industrialized noise grooves on the actually-quite-good 2-parter "The Body in Pain".
What's on this reissue?: Every track from the original CDr, including the minicomic included in the first run, as well as every track on the Megaflamer edition and several previously unreleased demos. There's even an early interview tacked onto the end, as well as the very first completed Caustic track "Urethral". Make no mistake, a lot of these tracks are the ugly experiments you produce as you find your voice as an artist. As such, Fanale is presenting it here largely for archival purposes; it's hard to imagine anyone sitting down to listen to rough cuts like "Kill that Fuck" or "Incendiary" (although the Gothsicles remix of the latter track actually has a low rent KMFDM feel to it) more than once. Still, when presented in the digital by donation format it's easy to take Fanale at his word that this is pretty much just to show how far he's come in the last decade. Considering the project's cult following in 2014, having illustrative releases like this in circulation certainly won't hurt.
Who should buy it? Caustic has diligently developed a loyal audience over the course of the last decade, and fans who haven't heard this material may find something of interest amongst its 22 tracks. Those less interested in the nuts and bolts of an artist's evolution may have a harder time finding a foothold, as a release it doesn't have the immediacy of Fanale's more comedic middle-period or the polish of his most recent records (although you could probably draw a line between its unvarnished style and the arrestingly frank …And You Will Know My By the Trail of Vomit). The value of this sort of release really does depend on how invested you are in the artist and the story of their development. As Fanale himself says in the liners "This is the stuff most artists are embarrassed to put out, but to me it shows process, and I'm big on process."