Morning, gang! Over the weekend The Legendary Pink Dots brought their magic box of drones, stories, trips, clatters, and wails through Vancouver, starting off their Year 33 Tour. I've only been catching the Dots live for about half of that illustrious run, but their shows are always entrancing, always transportive, and always changing (with the possible exception of Edward's vocals, which haven't aged an iota since 1983). I'm sure I'm wrong in this, but the only tune I can remember being played at more than one of the half dozen or so Pink Dots shows I've seen is The Tear Garden's "Isis Veiled". This set was fittingly heavy on material from The Gethsemane Option, with some stone classics and a tune or two from the post-Gethsemane sessions releases (no matter how recently you saw the Dots, there will always be ten releases issued in the interim at the merch table). Check the tour dates, buy a ticket, and sing while you may. On with this week's tracks!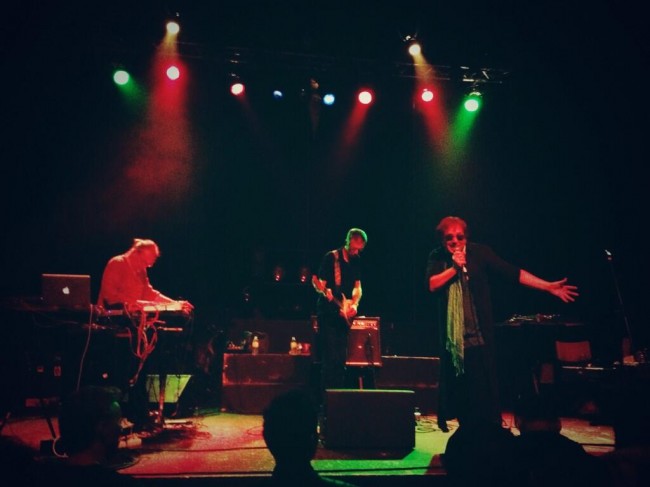 Sebastian Komor, "Body Move To Body Music"
A no-frills electro-housey bumper from the one and only Seb Komor, released as part of the relaunch of his studio and his new label/production company, Xenomorph. He's Vancouver's now, Edmonton, no backsies!

Kangarot, "Ionized"
We first caught wind of this new(ish) act on their split with fellow North Carolinians By Any Means Necessary. The new Kangarot tape definitely shares some of the same roots electro-industrial DNA as BAMN, but there's also a lot of spacier and bubblier sounds in the mix, kind of on a Severed Heads/kosmische tip. Looking forward to sinking my teeth into this release a bit deeper…

Flesh and Fell, "The Devil In Me"
Belgium's Flesh and Fell released a pair of 12″s in the 80s before health issues cut short their career. Reactivated twenty five years later, the high-drama wave group just released their first LP on Out Of Line. Single "The Devil In Me" is some slinky fun which should appeal to fans of Collide, Kirlian Camera, and even In Strict Confidence.

Mlada Fronta, "XB-33 (Mlada Fronta Rmx 2013)"
Artoffact's mammoth ten CD box of flat-out everything Mlada Fronta ever released deserves comment simply for the sheer audacity of the project, let alone the actual music contained therein. We'll be weighing in on the set, hopefully sooner rather than later, but in the meantime check the write-up it garnered over at Mishka, plus this new exclusive mix of timeless club classic "XB-33".

ELMS, "Ring Finger (Electro)"
No, not a NIN cover, but something sent over by my pals at Dark-ware Events. Hailing from my little-while-home of Peterborough, ELMS is a new and rather bleak singer-songwriter project whose Divorce EP made me think of Scott Walker and Joni Mitchell. It's also been ported over quite handily to bouncier synth-based interpretations, which can be checked on their Soundcloud. Here's hoping something this wintry can drive the last of this overlong humid summer out to sea.