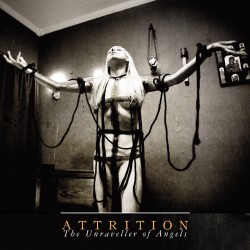 Attrition
The Unraveller of Angels
Two Gods
I can't claim to be an authoritative, die-hard Attrition fan, but I've always had a huge amount of respect for Martin Bowes' work. Developing what we'd now call a classic darkwave sound years before the term existed, and then slowly refining and developing that aesthetic without ever standing still or making concessions to contemporary trends, Bowes' thirty-plus year history in Attrition is a testament to the dignified pursuit of one's own muse as much as it is to the actual direction in which that muse guides, a tradition which new LP The Unraveller of Angels handily continues.
Ironically, Attrition tunes are often instantly recognizable due to their understatement: despite having club-friendly beats, Attrition rarely opt for overpowering volume, leads, or vocal hooks, and The Unraveller Of Angels is no exception. The sound is wet beats, muted guitar chords, acoustic strings (supplied by none other than Erica Unwoman Mulkey), and then the constant interplay between Bowes' monotone, film noir narrator vocals and the swooping, shuddering acrobatics of his female collaborators. Opener "Karma Mechanic" has all of these elements, and the strength of their effect seems amplified by the space each affords the other, quickly taking then ceding the spotlight, all threading through the eye of a tense jungle break. Mona Mur turns in a solid guest vocal turn with new singer Tylean flitting operatically around Mur's more aggressive lead.
Lead single "Narcissist" (which you'll be treated to a bonus ten mixes of if you nab the LP this month) has been holding its own in the club, but its slinky bassline and Tylean's cooing-then-savage vocals set it apart from plenty of current jams which are just as easy to dance to. Things get a tad more morose and experimental towards the tail end with a fraught string and piano arrangement being surprisingly steamrolled by rolling drums on "The Causal Agent". The lengthy "Hollow Latitudes" feels like a closing medley at a particularly vicious cabaret, with lyrical images and themes from earlier songs resurfacing recombined.
As with France's Die Form, I fear many of us run the risk of taking Attrition for granted: they've been around at least since many of us were in short pants, have a back catalog which would make the Legendary Pink Dots stand up and take notice, and are nothing if not consistent. While these qualities perhaps keep them from making flashy waves at the surface level, they've also helped them carve out a unique and unassailable niche, of which The Unraveller of Angels is yet another self-assured and self-reliant entry. Pay respect.