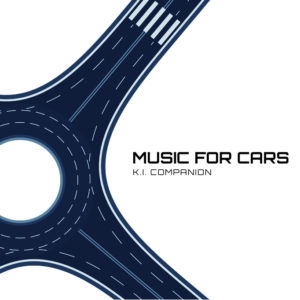 K.I. Companion
Music For Cars
Mellow Jet Records
Plenty of artists, from Blixa Bargeld to Men Without Hats to our site's patron saint Gary Numan, have explored the tension between travel and isolation which is captured in the experience of driving. Forma Tadre's Andreas Meyer is the latest to attend to this theme with the debut of his new K.I. Companion project, Music For Cars, but the record is most clearly indebted to that other act who took up the theme of driving as a form of solitary meditation: Kraftwerk. Across ten tracks of warm, contemplative, and ultimately relaxing instrumental electronics, Meyer combines the inescapable influence of Hütter and Schneider with the rich, symphonic approach to synths he's showcased on recent soundtracking work and the most recent Forma Tadre album to date.
Although the infamous motorik beat is nowhere to be found on Music For Cars, there can be no doubt of the spiritual influence of Autobahn on Music For Cars. While that record's dreamy approach to the subject of automotive travel threads through the album, the actual sounds and structures of the record point towards later Kraftwerk releases, as well as Meyer's broader interests in all things kosmische and krautrock. Bubbling pulses are framed by restrained, clicking percussion (the latter perhaps an amplified version of the micro-beats which dusted Forma Tadre's ambient Automate LP. The whole affair speaks to the classic ideal of electronic music as complement to various experiences rather than as the object of focus itself.
If Music For Cars is meant to be something of a guided tour, it's one that moves through varied climes, though provides the listener with enough distance to enjoy the scenery without becoming lost in it (or taking their eyes off the road for too long). The dreamy clockwork lope of "Kreisverkehr" allows the listener to track each calculated component's traipse even as it lulls them. The robo-funk groove of "Nebel" gets under the skin, but never loses control of its tight sequences. Even when the beats are turned up, with kicks becoming more prominent in the album's second half, the warmth, harmony, and timbre of Meyer's synth selections remains fresh and charming.
The senses of alienation, observation, and transience communicated by Music For Cars makes it an unexpected 'commuting' companion during these strange times. With many of us stuck in our own individual pods whilst still traveling to work, to parties, to concerts, all by proxy, the feeling of watching the world pass us by at a distance through glass (the windshield, the monitor, who can tell?) is a resonant one. Although an incidental happenstance, this connection underscores Meyer's talents for creating rich emotional soundscapes without a word.