End to End is our track-by-track take on non-album and compilation releases, in which we try to give thumbnail first impressions of each song and point to particular numbers to be cherry-picked via the consumer's online retailer of choice. This time it's a digital single from a well-respected Australian act we've followed for years…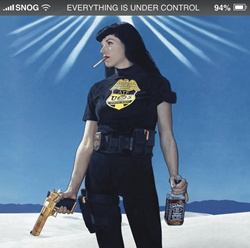 Snog
Everything is Under Control
Metropolis
Although Australia's Snog have never been conventional, I daresay that even the most fanciful amongst us couldn't have accurately charted the project's trajectory from pop-minded leftist EBM to alt-folky electronica with dollops of the symphonic. Still, Dee Thrussel's sense of musical whimsy and protean sensibilities have been reflected by Snog's singles going back at least as far as Buy Me, I'll Change Your Life, the releases always featuring a wide variety of stylistic intepretations from Thrussel and a recurring cast of collaborators. Hence my interest in the release of Everything is Under Control: the last couple of albums having felt less single oriented, I'm curious as to what treats DT may have for us to take in before the release of May's Babes in Consumerland.
"Everything is Under Control"
Way cheerier than say "Corporate Slave", but far groovier and more dance friendly than anything from the last couple of records, this plays the middle ground pretty well. The lyrics are about as typically snide as ever, and while not a triumph of arrangement or wit, it just feels like a fun, danceable Snog tune, which is hard for a fan like myself to find fault with. That said, despite having a strong hook it might be a bit slight for the remix treatment.
"Everything is Under Control (Spiderface remix)"
Two minutes of weird, spacey ambiance eventually giving way to a slightly beefed up rhythm treatment of the original ornamented with some filtered bass sounds. Fine for that, although nothing about it screams out to be listened to specifically. I wouldn't necessarily skip it if came up on shuffle, but I probably wouldn't put it on either.
"Everything is Under Control (Sir Real remix)"
Sir Real's name has popped up on a couple of Snog releases over the years, although I couldn't tell you anything about the project's MO or provenance. The mix revolves around some twinkly synth patches and piano sounds, with the rhythm pushed to the background for a more laid back vibe. It's perfectly nice, if a little heavy on the effects punch-ins. I suppose it highlights the hook of the original well enough without making much of a mark for its own self.
"Everything is Under Control (Digital Primate and Ehsan Gelsi remix)"
I really dig the breakdown midway through this version with the synth chord changes before the big echoing bass comes back in. Sadly the rest of it feels pretty aimless, with instruments dropping in and out without really establishing a sense of flow or arrangement. Not awful, not great.
"Everything is Under Control (Ash Wednesday remix)"
Oddly enough, this minimal version from ex-Neubauten member Ash Wednesday works for me pretty well. I like how the far off, back-masked sounding strings of the original are put out in front and given the spotlight, and the use of Thrussel's "Ooh-Ah" vocal for a rhythmic element is fun. Might just be because I've been non-plussed with the last couple versions, but this is a-okay.
"The Lament of the Lost Sheep"
Snog singles have been featuring these heavily orchestrated b-sides for a while now, and I'm always inclined to like them. This sort of thing has always been more in the province of Thrussel's other projects like Black Lung and Soma, but liking those projects, it's nice to hear elements of them (like say, this short slice of strings, forboding ambiance and bird cheeps) pop up. Good stuff.
The takeaway: Welp, this is pretty cut and dried actually; if you're a Snog completist like yours truly, go ahead and snag this. Otherwise you're probably not gonna want to bother. The original version of "Everything is Under Control" is by far the best thing on it, and since that'll be on the album there just isn't that much here to truly recommend a purchase to anyone but the most faithful.