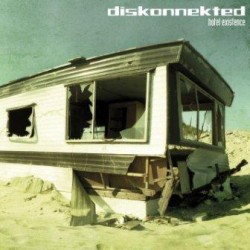 Diskonnekted
Hotel Existence
Alfa Matrix
When Belgian bands on the industrial spectrum are mentioned, roots EBM is likely what your mind flashes to. Jan Dewulf's Diskonnekted project has always bucked that impulse towards minimal and brooding fare, instead adopting an extremely catholic and production oriented stance. Over the years Diskonnekted have incorporated trance, breaks, and all manner of rock guitar as well as more commonplace industrial and EBM markers into their mosaic. Fourth LP Hotel Existence finds Dewulf adding even more, this time playing with adding the bass-heavy elements of what's now being termed EDM into his already broad palette.
Diskonnekted's never been an act to go for obvious club leads or beats. Instead, it's all about getting multiple ingredients cooking on the stove and waiting for them to simmer and blend. Lead track "Yesteryears" is a textbook example of that, and seeing as how we've had a few months to allow its bubbly synths, guitar lines and suavely arranged drums sink in, it's a great start to Hotel Existence. Speaking of guitars, it's worth mentioning how Diskonnekted's don't really slot in with those that usually surface in industrial rock, with chorus pedals often being pulled into service for dreamy leads.
Like I said, though, it's the addition of bursts of yawning, croaking bass waves which jumps out as the biggest departure. This development works best when a balance is struck between classic drum breaks and newer, deeper bass wobbles. "Neverland" does so quite well, laying a spiky trail of beats and guitars before using the bass to sparingly push the track into overdrive in spots. "Dark Place" tries to find that same equilibrium, but the harsh, um, disconnect between its light, skipping-along verses and the crashing torrents of back-washing bass on the chorus are too much for the structure to bear.
Dewulf holds off on applying those heavier sounds to the more chill, "continental" tunes – like the excellent "Dalloway's Journey" – until the very end, with "Tunnel Vision" (incidentally, as far as Diskonnekted's mellower side goes, I've been remiss in not noting Dewulf's possible influence on the recent accomplished work of Liquid Divine), an excellent track in which all of the components which have been on display on Hotel Existance – beats, guitar, synth leads, bass, Dewulf's direct vocals – are all given space to shine and almost hand each other the spotlight in a sort of relay.
Production-heavy, sonically varied projects like Diskonnekted (and that other great omnivorous act, mind.in.a.box) often feel like juggling acts: can these different elements flow with each other without getting in each other's way and sending the whole affair crashing to the ground? Diskonnekted has proven itself to be a roundly dextrous act in the past, and while there are a couple of shaky moments, on the whole Hotel Existence finds them adding the new developments in low-end into their act just fine.