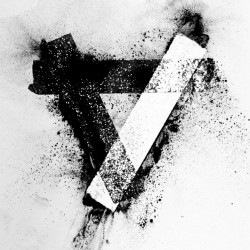 Officers
On the Twelve Thrones
Original Wall of Death Recordings
Officers' debut On the Twelve Thrones was co-signed by Gary Numan as the best of 2011 in Artrocker Magazine, and even a cursory listen suggests why; it's informed by the same industrial rock tropes that have been a hallmark of Uncle Gary's own post-comeback work. In practice that means big doses of processed guitars and tasteful electronics wrapped around fairly standard rock structures, with the occasional nod to a few other complimentary sounds along the way. As an album it all plays reasonably well; even when Officers' songwriting isn't terribly inspired they're saved by an integrated approach to production and performance that keeps the listening experience pleasantly consistent.
There's a division at the center of On the Twelve Thrones that only becomes apparent with a few listens, even if it's one that should seem obvious in light of Officers' approach; the band has its "rock songs" and its "electronic songs". That's not as simple as instrumentation; every track features guitar in a central role and even those light on actual identifiable synth noise are products of digital-minded studio craftsmanship. Those qualities mask a fairly elemental divide. While the electro-bass and quantized drums that push "Afraid of Your Love" are accented with some kinky riffs it's quite literally driven by the former elements. The track that immediately follows makes the contrast clear: "Say it Again" is undeniably a riff-first-and-add-production-later rawk song, admittedly one that's been hammered into the shape of the rest of the album on the DAW anvil.
That both styles of song can intermingle without stepping on one another is worth noting. Officers have managed a kind of stasis on The Twelve Thrones that allows each a moment in the spotlight. Single "Co-Education" has a slinky Nine Inch Nails-style mechanical groove that gives way to a nice big chorus, the guitars mimicking the precision of a programmed instrument in their deployment. "Disarm" on the other hand sits in a more organic pocket, the "Tomorrow Never Knows" drums are played more loosely against the bass and looping guitar. They're both quite good, and it has to be said, the fact that they're both under five minutes works to their advantage. Officers' chief weakness is in letting some of their weaker compositions go on too long. "All the Ghosts Away" has all kinds of mood but is too sparse to support its six minute run time, while the mid-tempo "Soul Saviour (Mutations)" meanders along, locking in too late to really make an impression. Conversely, one of the coolest bits of the record is "Counting My Guns", an instrumental relegated to being a two minute opener. Its monolithic atmosphere and snappy snares show a lot more potential than some of the numbers three times its length.
The more I listen too and think about On the Twelve Thrones, the thing that sticks out for me is how much of a case it makes for "the album" listening experience. When shuffle-play and massive libraries of mp3s are the order of the day, it's good to hear a band interested in crafting a beginning to end listening experience. Picking apart the record into individual songs lessens Officers' potency; their gift is in corralling together different impulses into a uniform package. There's strength in its unity, one that helps excuse some dips and allows its highlights an opportunity to shine. Not a bad first effort, and one that may well be worth revisiting when the occasion calls for it.