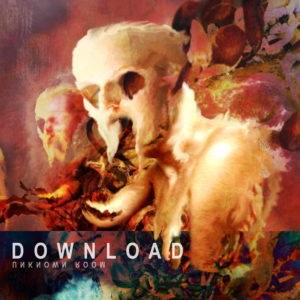 Download
Unknown Room
Artoffact
The sudden passing of Phil Western can't help but inform any approach to Download's eighth LP of tripped out techno and IDM, Unknown Room. Anachronistically, the fact that the record was wholly finished and on its way to release well before Western's death doesn't change that. You can't sit down and cue up Unknown Room without thinking about it being the last opportunity to check in with what Western and fellow electro-alchemist cEvin Key have cooked up in the lab (barring posthumous or archival releases). It's comforting, then, to discover that Unknown Room is wholly part of the continuum of late-era Download, and is very much a living and organic continuation of preceding LP Lingam.
After Download's initial combination of post-industrial noise and techno was pushed to its experimental limit, the purely Western and Key era of the project has been defined by glitchy reworkings of house and techno, though with little of the cold abstraction which glitch commonly carries. Like Lingam before it, the dub sensibilities and sound design which intersect with Unknown Room's furtive tics and squeaks lend the record warmth and playfulness. "23 Years" is rife with squelched out, raygun sound effects while "Gaslighter" lopes alone with stoned, downtempo ease. Both point to a major dynamic in the last handful of Download records: Key's savvy dub style acting in concert with the homey, almost whimsical delivery of Western's solo work.
To speak too much of the trippy and dub elements of Unknown Room would be to ignore the sheer amount of energy on display in the record, which rarely dips below 110 BPM. The speedy techno rush of previous tracks like Lingam's "Yoni" becomes a driving principle on Unknown Room, with the blissed-out phasing of "Happy Tribe Conspiracy" entwining with classic Key arpeggios and heading upwards to rave plateaus. Other choices, like the thumping krautrock drumming on "GUI Goats", find Key and Western making lateral shifts in style but obviously also wanting to keep the party going.
Given how deep the Subconscious vaults have proven themselves to be, it seems unlikely that Unknown Room will be the last release to feature Key and Western's work together. Yet it is the pair's final original LP, a fact that is still difficult to process. Given that, hearing the bubbly and easy-going headfuckery with which Download's come to be associated for the past two decades continue on as if it might do so forever is bittersweet. It might be the end, but you'd never know to listen to it.