End to End is our track-by-track take on non-album and compilation releases, in which we try to give thumbnail first impressions of each song and point to particular numbers for cherry-picking via the consumer's online retailer of choice. Today it's a remix comp for one of the newest members of the Crime League.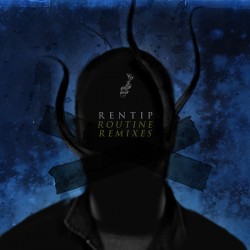 Rentip
Routine Remixes
Crime League
I enjoyed Rentip's Daily Routines, the Czech producer's first release for Crime League, for its commitment to ever-shifting rhythms that remained the focus of the compositions. I even commented on my own subconscious impulse to add to the percussion with whatever weak ratamacues I could muster on transit or on my desk. That sounds like promising source material for mixes: let's find out!
Brother of the Dawn Sister of the Dusk (Colony Collapse Disorder Remix)
The closing track on the original album was the most ambient and rhythm-free; Indiana's Colony Collapse initially look to be starting Routine Remixes off in a similar fashion with some murky washes, but a classically kosmische arpeggio and a dubby downtempo break put the lie to that.
Selective Memory Loss (Digital Poodle Remix)
Digital Poodle? For real? Man, Crime League honcho Michael Morton's Ontario roots are paying off. The ambling yet military feel of the original is swapped for a more liquid one (kind of on an Autoclav1.1 tip) that's very much in keeping with the original album's aesthetic.
Soulmate (Somatic Responses Remix)
Speedy and clicky, with deeper pulses being offset by highly compressed gurgles and squeaks. Switches tempos midway through, but retains a buzzing that's setting my teeth on edge (though that's likely the point).
Echoes (I Hear You Mix by Zyxt)
Simple, looping chord progressions and impulsive keyboard stabs are stacked and withdrawn. The core break reminds me of some Pigface mixes off the Below The Belt comp, for reasons I can't quite place.
Sated Gods (Makkatu Remix)
Minimal, deep, and dubby. The snares on the slightly rounded-off drumbeat that crops up midway through sound as submerged as everything else in the mix, but soon build tension. There's a really nice rise and fall to the instrumentation on this mix: it takes its time, but it's definitely one of the strongest moments here.
Soulmate (Raab Codec Remix)
Bendy and bubbling glitch that seems to connote Autechre, but the repeating phrases it moves through don't measure up to the potential for serious weirdness. Not really feeling this one.
Selective Memory Loss (Severed Mix by Displacer)
Michael allows some isolated piano samples to sustain and rise over a stripped down but warm iteration of the original's dense patterning. Thicker but more acoustic drums raise the drama in the second half. Tasty.
Rules of Collision (Worms of the Earth Remix)
Hey, here's another pleasant surprise on the remix roster! Definitely some club potential under the hood of this fuzzy but complex and engaging mix. Half head-nodder, half hip-shaker, all impressive.
Brother of the Dawn Sister of the Dusk (Dead Voices on Air Remix)
Haunting ambiance with hushed and shrouded vocals phasing in and out of step with slowly circling drones, with just enough harmony to keep drawing you in. I'd expect nothing less from Mr. Spybey.
Paths Lead Knowhere (Trip Back Remix By Angakok Thoth)
Closing out with some dusty and low-fi samples shuffle in the background while a carousel of collage-like audio snapshots take turns up front. Perhaps not as elegant a potential finishing piece as its predecessor, but certainly cryptic enough.
The Takeaway: For a remix comp, this is a remarkably coherent and evenly-keeled piece of work with an especially strong second half; I'd have no problem accepting this as an original album by a single artist if I was listening to it blindfolded. Whether that's a testament to the source material's stability or savvy choices in remixers, I can't say, but fans of rich IDM really can't go wrong with grabbing Routine Remixes wholesale.