End to End is our track-by-track take on non-album and compilation releases, in which we try to give thumbnail first impressions of each song and point to particular numbers to be cherry-picked via the consumer's online retailer of choice.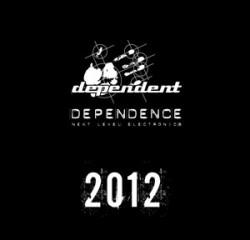 Various Artists
Dependence 2012
Dependent
Dependent has already released a pretty solid comp this year, and are back with another in the third installment of their label-based Dependence series. The usual suspects are all present (in fact 9 of the 15 tracks are by artists featured on the 2011 iteration), which is certainly nothing to scoff at considering the stacked roster Stefan Herwig has been cultivating since reactivating the label in 2009. How does it stack up against the 2011 and 2010 versions, and the recent 10th Septic comp? Let's find out.
Radioaktivists, "Pieces of Me"
When I first heard this song waaaaay back at the beginning of the year it was labelled as a track from Daniel Myer's forthcoming Architect album. I guess they must have had fun doing it, because it's now the first jam from a full on project featuring DM, Frank Spinath, Krischan Wesenberg of Rotersand and Sascha Lange of indie rock combo Sunday Music club. Questions of pedigree aside this is really quite lovely: it's the wonderful, emotive synthpop I've been waiting for since Haujobb remixed Seabound's "Watching Over You".
KMFDM, "Amnesia (Käpt'n K. Mix Edit)"
I didn't pay any attention to KMFDM's last album WTF?! after hearing the single "Krank", so this is my first time hearing this song (slated for a single release this month). And hey, it's not too shabby. Mostly programming and Lucia's vocals with some processed guitar. I did cringe a little when they busted out the old "Black Man/White Man/Rip The System" chestnut near the end, but if I'm being honest I expect so little from KMFDM in 2012 that I'm willing to give it up for a solid bit of club fodder like this one. Pretty okay!
Mesh, "You'll Never Understand (Harder)"
This mildly rocked-up remix appeared on a digital single previously, but is certainly welcome here; Mesh's strength has always been in songwriting, and this is no exception. The female vocals are especially nicely arranged and I also just noticed what I think is a subtle Akira sample at the beginning, a cute production touch to be sure.
Skold, "Tonight (The Birthday Massacre remix)"
I'm not much of a fan of Skold's solo material, although I did enjoy bits of that record he did with KMFDM a few years back. Fortunately the Birthday Massacre have a tendency as remixers to makeover songs until they sound like their own stuff, which I do generally enjoy. So yeah, this plays like a TBM song with Skold singing on it, which is a little bit of alright. I could see dancing to it.
Pride and Fall, "Reborn"
Boilerplate futurepop from a group who don't do much else. I've never heard any P&F songs I think are bad necessarily, they've just never grabbed or commanded my attention. That makes this par for the course.
Informatik, "World of Wonder"
Da5id Din is a trooper, dude has been producing and releasing material since the 90s, starting with dark electro and transitioning into a more organic, full-band direction on the recent stuff, created in collaboration with Tyler Newman of Battery Cage fame. This particular number is on a more ballad-tip, which although fitting nicely into the melancholic vibe of the comp isn't ultra-memorable in and of itself. I'll always keep an ear open for these guys, but this just isn't doing anything for me.
Seabound, "The Escape"
The first new Seabound material we've heard in a few years, although Spinath has been plenty busy with Edge of Dawn and Ghost & Writer during the hiatus. I'm keen for the new record from them (which according to their Facebook fanpage they're in the midst of producing), and while this isn't the strongest song, it still sounds like Seabound, and that's almost enough in and of itself. Consider it an aperitif and you'll probably be happy.
Dismantled, "Whole Wide World"
The mix on Dismantled's last full-length The War Inside Me was distractingly bad, which deliberate or not ended up distracting from Gary Zon's expanding talent as a songwriter. This low-key, melodic number seems to have cleared up some of the production issues, and has a memorable hook, making a nice companion piece to the VF mix of "Disease" that appeared on Septic X. There's a sense of genuine vulnerability on it that Zon doesn't always hit when he does slow jams, but that works really well when he does get it in the end zone.
Encephalon, "The Transhuman Condition (Singularity)"
Club mix of the title track from Encephalon's debut LP, which you may recall we were quite fond of. I like the use of tight, processed guitar in place of some of the synthlines, and although this is less dynamic than the original cut, it should serve as a solid club mix. I kinda feel like remixes like this exist to appeal to unadventurous DJs, who probably don't deserve to be catered to, but whatever. It's still good, maybe it'll get more folks to check out the album, which, as previously established is a slice of fried gold.
Front Line Assembly, "Angriff (Project Pitchfork mix)"
FLA's Improvised Electronic Device yielded two killer singles in the form of "Slipping Through the Lens" and "Angriff", the CD release of the latter being where this mix appeared previously. It's not a patch on the original version, either in structure or production, but isn't totally without it's charms with some nice little Pitchfork-eque sequences. That said, at almost 7 minutes it wears itself out well before it's over. Listen to the original version. (As an aside, I suspect the original cut had a lot of input from FLA guitarist Jared Slingerland, who more and more seems like an underrated part of what that band has been doing over the last few records.)
Stromkern, "Ruin[Ed]"
Despite being listed as an unreleased track, this is the same song that appeared on Stromkern's dope comeback EP Dead Letters released on WTII earlier this year. It was good then, and is just as good now, featuring Ned Kirby's hot new look as industrial singer-songwriter. We dig, hoping for an album announcement soon!
Acretongue, "Violent Pale"
Nico J's 2011 LP Strange Cargo was a pleasantly constructed slice of melodic electro, and this new track falls nicely in line with the album. Acretongue does atmospherics and mid-tempo beats like a pro: like most of his songs this one doesn't jump out and grab so much as it sidles up nice and subtle, all well-put together and smooth. Legs, this track has 'em.
Ghost & Writer, "Fraud (Decay Inc's fourty-something Radio mix)"
Man, Spinath is just all over this comp. This is laid-back version of "Fraud" from G&W's Shipwrecks is a little slower and sparser than I'd like, but if nothing else it has some lush production and even a bit of chorused up guitar deployed to nice effect. Perfectly listenable, if not totally indispensable.
Velvet Acid Christ, "Even Now"
VAC covers Edward Ka-Spel, and hey, as Bruce mentioned the other day, it really works. I suppose it's not a complete surprise that Bryan Erickson could do justice to Eddie's brand of electronic psychedelia (especially in light of some of the unadorned bits of songcraft from his last album), but I'm still a little shocked by how much I'm enjoying this faithful version of the 1984 classic. I'd buy a whole record of this in a second, it just has a super chilled out steez I'm feeling.
Decoded Feedback, "Another Loss"
Canada's electro-industrial mainstays close things down with a track from their forthcoming album disKonnekt. Marco and Yone are friggin' national treasures, folks who have been in the trenches for years now and who know how to construct records and bring 'em to the stage, I'm inclined to big-up this song for that reason alone. Helps that it's also a solid slice of well-produced of dark electro in the emotional tradition of the genre. Good stuff.
The Takeaway: Most compilations of this style aren't about a cohesive listening experience so much as they are an exercise in slapping together a bunch of tracks of dubious exclusivity. No one really expects to sit all the way through a label-sampler, so it's a testament to how well Stefan Herwig curates his label that Dependence 2012 manages to be a pretty solid listen front to back, provided you're on board with his more pop-oriented, melancholic vision of ebm and electro-industrial. If you're down, you could do worse than to snag the whole thing digitally, Metro has it for like $9, which is a decent price for 15 tracks. If you're looking to dip your toe in maybe snag the Radioaktivists, Encephalon and Stromkern tracks.
You can buy Dependence 2012 digitally via Metropolis , or on CD from Storming the Base.