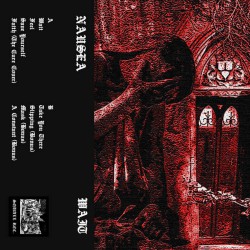 Nausea
Wait
self-released/Squall Rec.
Nausea (not to be confused with the crustpunk or synthpop bands that bare the same name) are a lo-fi UK darkwave act helmed by Samuel Cooper. Their new EP Wait works in a deliberately crunchy and sparse arena, shifting handily back and forth between rhythm and melody as a focus. The latter is definitely in the spotlight on the opening title track as a raunchy bass guitar and a clanky snare drum roll forth, with little else beyond a minimal bit of synth as accompaniment. As a song it's underwritten, but the simple repetition works for it, creating a forceful groove. "Feel" is an equally minimal but even sparser tune, featuring simple guitar figures and a sentimental vocal line that emerges and retires back into the foggy mix. "Save Yourself" splits the difference of the preceding tracks by pushing a chorused out bassline to the forefront, but weaving seasick guitars and punchier, more cleanly presented singing. Closer "Take You There" betrays some of the project's Cure influence (the cassette version of the EP includes a cover of "Faith"), with a soupy blend of synths and a mournful dirge-like rhythm, as forlorn and mopey as the opener was swaggering. The charm here is in how raw and ready the recordings of these songs are, the haziness adding to their charm and most importantly, their immediacy. Buy it.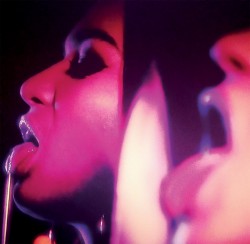 Viktor Kalima
Club Muscle
Infidel Bodies
The title of Finnish producer Viktor Kalima's debut LP notifies the listener of the frame of mind with which they should approach its nine tracks. There's little consideration of albumcraft or dynamics on Club Muscle: Kalima is instead running fresh out of the gate with his best bids for heavy-body club floor play. Despite lifting heavily from both techno and EBM traditions, the style being showcased here has a lot more glitz and polish than the concrete blasts which have been holding sway on Berlin floors of late. Glitzed up with lithe bends, leads, and pulses, Kalima's aiming for tunes with a little bit of swing and sex, even if their core rhythms are still quite pummelling. The title track finds an interesting balance of French house and psytrance evened out by modern techno beats, and tunes like "Burn The Dada" and "Operations & Interactions" stand shoulder to shoulder with the likes of Black Strobe and Daniel Meyer's Liebknecht project. The regular switch up in styles from track to track perhaps keeps Club Muscle from working as a coherent whole, but as alluded to above these are cuts designed to be worked into DJ sets or at least a personal mix.