End to End is our track-by-track take on non-album and compilation releases, in which we try to give thumbnail first impressions of each song and point to particular numbers to be cherry-picked via the consumer's online retailer of choice.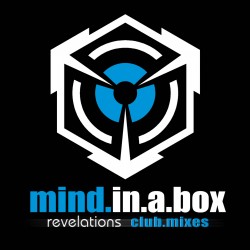 As predicted when we first lent ears to it, mind.in.a.box's fifth LP has proven to be rich listen which isn't only holding up now that the tidal wave of hype which accompanied it has passed, but is continuing to reveal subtle strengths and layers. m.i.a.b did a good job heading off concerns about Revelations' lack of club fodder at the pass by announcing the release of this EP of club mixes at the same time as the LP, and now that it's here, let's see how it pans out.
The EP is a no-frills affair: five mixes of five different songs, no fancy names, all remixed by the band themselves, complete with BPM notation on the back cover. The pre-release trailer positioned the EP itself as an artifact within the ongoing narrative woven through m.i.a.b's albums, a MacGuffin for Black to track down, but no mention of that is made on the EP itself.
Control (club.mix)
With its fantastic vocal turn from Stephan Poiss and disarmingly simple but evocative melodic lead, "Control" is holding firm as my favourite track on Revelations. The club mix extends and speeds it up by 10 BPM or so, simplifies and amplifies the kick drum. I'm a bit worried that the expansive, careening off into outer space scope of the original might be somewhat contracted by the speed-up, but it would fit in nicely and be a breath of fresh air in any cyber-oriented set.
Cause and Effect (club.mix)
The tense, heavily distorted keyboard riff which carries through the propulsive original and its dark trance builds made "Cause and Effect" possibly the most floor-friendly track out of the box, as it were. A few elements from the original which I wouldn't have expected are brought to the fore in the club mix, though: the bassy piano vamp and the plucked classical guitar. On the whole, the mix opts for stressing the builds of the original rather than trying to make the beats harder or more danceable. An interesting reinterpretation of the track, but I'm not sure that it's more clubbish.
Remember (club.mix)
Album-opener "Remember" had all the slow-building drama and sonic architecture which have made m.i.a.b critical favourites but kept some of their better songs from gaining much club profile. Adding a simple nodding beat to the verses throws the giant, echoing chorus (left mostly unaltered) into sharp relief, almost making its bombast feel out of place next to the unassuming verses. Some very cool sweeping pads towards the end of the mix add a wonderful new dimension to the track, though.
Unknown (club.mix)
Between its tinkling sequencing and being the only track on Revelations to feature m.i.a.b's once-trademark heavily-processed, highly-pitched vocals, "Unknown" felt like it could have slipped pretty comfortably into any of m.i.a.b's previous albums. The club mix immediately jumps out with some very modern, almost Swedish-sounding electro programming that bounces and snaps just right. Elements of the original are added on layer by layer, and while seams show in a couple places and it's a tad long, this is still a great mix which adds new flavour to the original in bringing it to the floor.
Sanctuary (club.mix)
Revelations closed out on a rhapsodic number, gear-shifting from a light and spritely pace to thunderous clamor at arrival of the first chorus. The club mix immediately crosses the streams, opening with the chorus laid atop some classic futureop arpeggios. Breakdowns skive in alternating directions: sometimes cleaving dreamy and airy, sometimes churning and monolithic. It's a remarkably proggish move for a club mix which you could easily love or hate.
The Takeaway: If you've been spending half as much time letting Revelations percolate and absorb as we have, you shouldn't hesitate in grabbing the entirety of this EP. If you just want to make a hit and run for some floor fodder, opt for the "Control" and "Unknown" mixes.