End to End is our track-by-track take on non-album and compilation releases, in which we try to give thumbnail first impressions of each track and point to particular tracks to be cherry-picked via the consumer's online retailer of choice.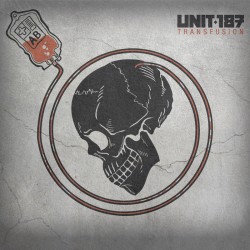 Unit:187
Transfusion
Vendetta Music
Unit:187's reemergence in 2010 with fourth LP Out For Blood was one of that year's more pleasant surprises. Much like the Dude's rug, Chris Peterson joining as a full-time member really helped tie the album together, and a fantastic Ken Marshall mixing job added some abyssal lower-end depth to the band's classic coldwave steez. Out For Blood worked best as a full-album headphone listen rather than as a club disc (though it did sound great on a club PA), so the announcement of a remix disc was welcome news: I'd be happy to have a few mixes in my pocket for club play, and if it helped raise the profile of its parent disc, so much the better.
Rolling Vengeance (remixed by Ken "HiWatt" Marshall & cEvin Key from Skinny Puppy)
A head nodder which gives the guitar some space to breathe while bringing some drum breaks to the fore. Kinda reminds me of "Angriff" off the last FLA record.
Threatened (Rom DiPrisco Remix)
A very modern bleepy electro mix which resists the urge to sacrifice everything else for the sake of the kick drum. Could use a bit more beef on the chorus (there are just piles of guitars on the original which could've been woven in well enough), but still pretty solid.
Sick Obsession (Stiff Valentine Remix)
Wait, what was that about wanting more guitars? Loud Chris & co. add some nice phasing and underline the harmonics with some expertly layered keyboards. Could be well-suited for a movie trailer, perhaps…
Blood For Blood
An original studio track which looks to date back to '05. Built around some looping chamber strings, it's radically different both in mood and composition than anything else on Out For Blood. While it certainly would've disrupted the flow of that disc, it stands very well on its own as a catchy bit of experimentation here.
Threatened (Knifed Remix by Jared Slingerland and Craig Jensen)
There's some nice drum arrangements and pads which almost have a Land Of Rape And Honey feel to them, but the over-driven bass wobble is just too much for me, like half a bottle of ketchup dumped on a gourmet meal.
Living To Die (Necrotek Remix)
A bit of a plodder that you keep thinking is building to something big and noisy, but never gets there, and there's just not enough to hang your hat on in terms of the spacey, dubby vibe it is actually aiming for. Meh.
DDD (iVardensphere Remix)
"DDD" might be my favourite track from Out For Blood, and given how much Scott Fox's stepped his game up of late my expectations for this one were high. While this mix takes a bit to get going, the original's funk-metal riffs prove to be a good match for iVs' signature hand-drums, and there's a downright creepy metal pipe (or bell?) sound which makes me think of Lustmord. Cool stuff.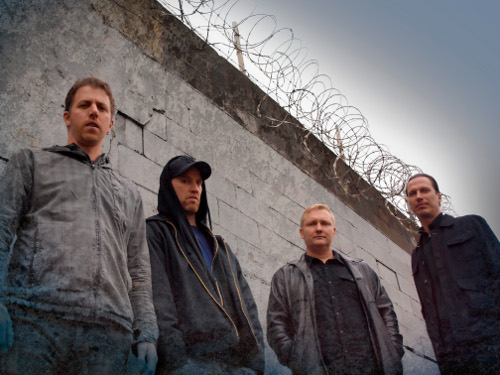 Rolling Vengeance (C((o))de Blue Remix)
Wormy bass rolls are used just sparingly enough to avoid wearing out their welcome, and Tod Law's vocals are echoed and reverbed wonderfully to evoke a marching legion's chants. Toss in some nice skittery drum breaks and you've got a nice, if sparse, retooling.
Kurva (16Volt Remix)
Cleaves pretty close to the original but adds some thick bass and klaxon-like wails. Almost feels like an alternate mix from the desk rather than an outsourced one.
Rolling Vengeance (Deathproof Remix)
Loads of scrapey distortion and filtering. The high end feels a bit sharp, but damn if it doesn't suit the tune well. Perhaps the most archetypal coldwave mix to be found, to my ears.
DDD (Witchmaker Remix)
Solid stuff here, which adds a little bit of everything – more drum fills, more keyboards, more dancefloor potential – without sacrificing the funk or strength of the original.
Threatened (End Threat) (Glitch Mode Mix By Cyanotic)
The ghost of jungle presides over this binshaking mix, which also calls Mick Harris' celebrated Scorn project to mind. Law's vocals suit the mood exceedingly well.
Rolling Vengeance (Mindless Faith Remix)
Nothing fancy, but the US outfit gently nudges the track into into a more dancefloor friendly beat with some tasteful less-is-more programming. (Don't get me wrong, it's still crazy loud, I'm just saying…)
Threatened (Mono-Amine's Poppy Remix)
Gah! Buttloads of overdrive and a maelstrom of whooshing effects. It's all a bit too much, but I'm pretty sure that's what they were going for.
The Takeaway: It looks as though stems for only six of Out For Blood's ten tracks were given out, but on the whole each remixer does such an in-depth job refashioning the source material that there's rarely any sense of overlap or redundancy on Transfusion, strength of individual tracks aside. If you enjoyed Out For Blood on its own, Transfusion merits a solid buy, though be aware that not all of the tracks stick super-close to the heady brew of guitars that the record delivered (though why even check a remix disc if you just wanted the original?). If you're cherry-picking for club tracks, the DiPrisco, iVardensphere, Witchmaker and Mindless Faith cuts give you a wide range of options.