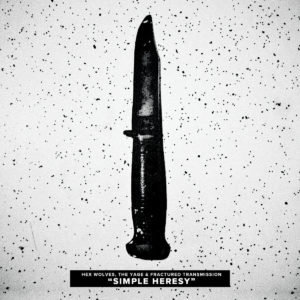 Hex Wolves, The Yage & Fractured Transmission
Simple Heresy
DTH X CMP
Judging both by the reps of the artists involved in three-way collaboration Simple Heresy, you might be expecting a rough-hewn banger of a record, chock-full of distorted beats and rusty textures. And you wouldn't be necessarily wrong, although in practice the record has a great deal of nuance and depth to it. Hex Wolves and Fractured Transmission have already carved themselves a collaborative niche, working out their yang for abstract rhythmic noise swathed in dark ambience, though the addition of The Yage seems to have moved them into bassier territories. To wit, while the music here is rhythmic and harsh, it's less straight ahead blasts of noise and more slow rolling and severe. "Inverted Prayer" uses a loping, filtered beat and plinky synths to offset its deep drones, the track eventually moving to more unnerving and arhythmic territory as it progresses. The reverbed breaks and thick, hazy pads that make up the bulk of "Gang Bang Tabernacle" almost have something of classic Hyperdub to them. The bleakness of the song's atmosphere id set off by the nervous energy of its rhythms. For those differences in style it's a cohesive and whole release: the distorted kicks and strange, wrenching sounds on "The Cuck, The Gentile and The Holy Shit", or the fuzzed up bass on "Oh My Goodness" may be distinct, but are assembled with a unity of vision and intent.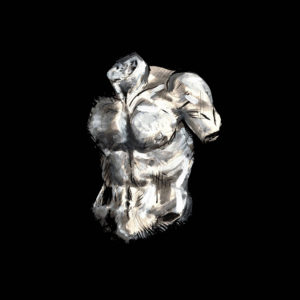 Harsh R
Physical World
self-released
Avi Roig of Harsh R doesn't ask for a lot of your time, but he's gonna make the most of it. The one-man Olympia act's been releasing singles and EPs at a steady clip for the past couple of years, each making brevity a virtue. His latest EP gets in and out in under seventeen minutes, but gets a great yield from the stabby electro-punk sound Roig's carved out for himself. Both lyrically and musically, Roig combines clarity and obfuscation to maximize the sinister grind Harsh R always seems to be aiming for. "No Walls" carries the shadowy, doomy groove of early Swans well, and the unmentioned desires of the narrator of "Person Of Means" seem all the more unmentionable for the urbane self-description the title gives him. But at other times it's the direct and jagged side of Harsh R's arsenal which gets the job done: check the gabber kicks of "Reciprocal" or the painfully plain class lament of "Make No Mistake" which leave nothing to the imagination. Whether it's through engineering or songwriting, Physical World leaves an impression long after its quick runtime.