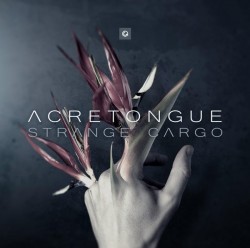 Acretongue
Strange Cargo
Metropolis/Dependent
Between promising compilation appearances and remix work at the more cerebral end of the spectrum (for the likes of Seabound, Ghost & Writer, and Haujobb), South Africa's Nico J had done no small amount of work raising the profile of his project Acretongue in the years leading up its proper debut. Strange Cargo quickly exceeded whatever expectations I might have had, though, delivering a suite of artful, mid-tempo dark electro arranged with care and craft which is almost the victim of its own success.
Like ID:UD faves Liquid Divine, Nico is clearly an adept of Haujobb, but while LD's underrated Autophobia used lessons imparted by Daniel and Dejan to construct an album that felt far more fraught and tense than its individual sounds might suggest, Acretongue does the opposite, crafting a listening experience that's far more lulling and subtle than its lush, chiming melodic leads and well-rounded beats might indicate after a passing listen. Songs build and flow into each other with organic ease, seem to call back to each other though no instrumentation or refrains are repeated, and envelop the listener within a seamless and seductive aesthetic.
Strange Cargo's strengths are immediately perceptible, but uncovering their source and nature proves exceptionally tricky. Acretongue's LP-length demo Nihil from 2007 (available for free on Bandcamp) is certainly no slouch of a release – plenty of acts would be justifiably happy to have put out work as solid at any juncture in their career – but the jump in craftsmanship which has happened between it and Strange Cargo is readily apparent, albeit difficult to quantify. Take "Dragonfly", the one track from the demo reprised here. It's nigh impossible to pinpoint exactly how the production on the updated version manages to rise and fall to match the song's lilting rhythm, but it does, and is hugely stronger for it.
There's something like undertow at play in Strange Cargo; consciously one's attention is drawn to the album's obvious bright spots (the brooding beats of "These Soft Machines", the arresting chorus of "Orphan's Affinity"), without recognizing the alchemical power these elements have in tandem with each other. What's most remarkable about Strange Cargo isn't that it offers a richly developed ethos on a debut record (such are the rewards of spending years polishing a proper debut – Strange Cargo sounds nothing like The Transhuman Condition but both show a band arriving on the world stage fully formed as if by parthenogenesis), but how easy it is to miss that ethos by getting caught up in the moment.
This balance between immediacy and depth is rarely struck, but Acretongue does so with a canniness which hints at far more demo work and laborious experimentation than the listening public was ever treated to. Strange Cargo never takes any shortcuts or easy paths to listenability, but it never feels "difficult" or forced the way many similarly rich albums can. It's a record which hits all the right marks without ever veering from the course it sets for itself, and pays back in spades the years spent on its refinement.