"Sometimes I miss the retro sounds from the good old Commodore 64, and sometimes I want bombastic metal guitars."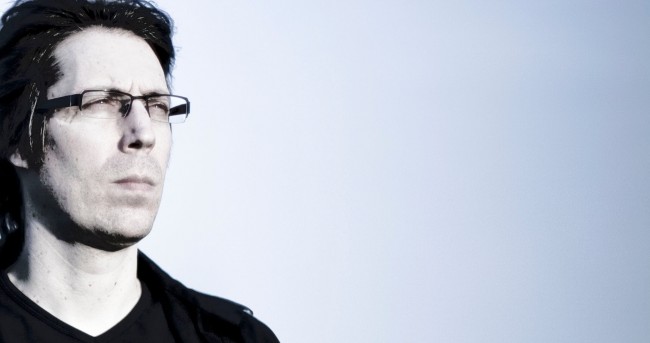 mind.in.a.box have earned worldwide acclaim for their series of immaculately crafted concept LPs, each linked through an ongoing cyberpunk narrative. After taking a detour with their "8-bit nostalgia" album R.E.T.R.O, and stunning audiences in Europe and North America with an incredible transposition of their catalog to the live stage, m.i.a.b. are set to release their fifth LP, Revelations, in just under two weeks. We talked to mainman Stefan Poiss about the growth of mind.in.a.box, labels, and walking the tightrope of live performance.
ID:UD: The complexity and thoughtfulness of your music has been apparent since your very first release, you've had a very distinctive sound since the first album. What influences were formative for you, and what musical interests have you discovered in the following years that have come back to shape the sound of mind.in.a.box?
Stefan: If I look back at the last years, I worked a lot on our mind.in.a.box live project with real musicians, I made completely the opposite with the R.E.T.R.O release, I started a new crazy project called Loomec with German lyrics and finished with a good friend our first album (which is still not released yet), I started another side-project called THYX and made an album which will be released in May 2012, and of course I finished with Markus our fifth mind.in.a.box album Revelations. So I worked on a lot of different projects with different styles. Everything goes up and down. Sometimes I start to miss the retro sounds from the good old Commodore 64, and sometimes I want bombastic metal guitars, or I want to make a piano track and so on. You absorb a lot of musical things all the time, but on the other side I think there is a big, fundamental musical base inside yourself which can't be destroyed so easily. It's the thing that directs how you make the music, how you learned to edit and listen to the sounds and with which tools you are working. The biggest change during the last time was maybe my singing; it changed a lot because of the live performances.
ID:UD: You'll be releasing Revelations (in Europe at least) under your own independent label, Dreamweb, for the first time. What prompted the decision to release this record yourselves?
Stefan: After R.E.T.R.O I wanted to change labels. Overall we had a great time with Dependent but sometimes you need a change for some extra motivation. I had a lot of time to make the switch but it needed much longer than I expected and in the end I was not in a good situation. Metropolis Records and I already fixed the release date and the labels were too slow for decisions. If I'm honest I don't know what they are doing. I think they all have a lot artists in the roster to stay alive and have no time left anymore. So the guys in the band and I decided to start our own label. I'm sure we will make a lot of mistakes in the beginning but it feels good to keep the rights and have the possibility to do what we want. This is worth a lot.
ID:UD: Dreamweb will obviously be representing your projects, but from the information on your website it seems clear you want to represent other bands as well. What sorts of goals do you have in mind in working with other artists, and what style of artist are you interested in working with?
Stefan: First we must see how good we are at this label thing and how well the sales will go with our first two or three releases. If everything runs well we would be open for other artists too. The style of artists can be very different and not only electronic. I think we will be open for anything. The difference from other labels will be that we want to act more like a service provider than a label. We want to offer services and the artists can decide what they want from us. Just as an example I can imagine that we will offer our production and our recording studio. That's not so usual for an independent label. If someone has a great track and would like to record some real drums, or someone wants some production work from me, we would be able to offer this. But first let's wait and see how things go.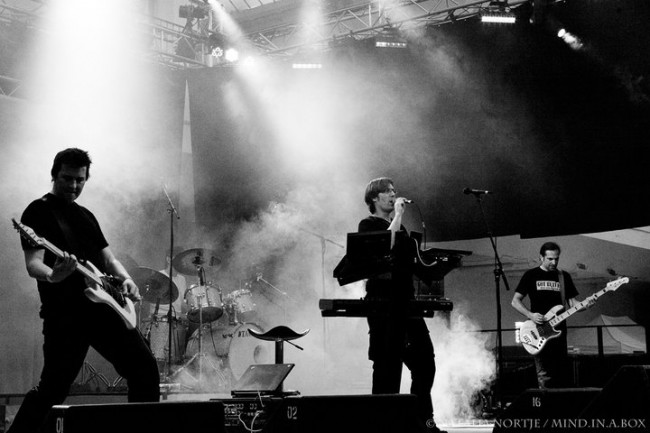 ID:UD: You're set to release the first album from your THYX side-project in May, and you've already started working on a second. While the one THYX track released thus far ("Into The Realm") has a somewhat more spacious feel to it than much of m.i.a.b., we'd hate to jump to conclusions based on one song. What is your vision for THYX as an entity separate from m.i.a.b., and what sort of sounds are you hoping to explore with it?
Stefan: For me THYX is a project where I will take any freedom I want. It is my personal musical playground. mind.in.a.box is a more intelligent project where the creation of the story, lyrics, and music takes longer because everything must fit together. THYX is the easy way for me. It will sound mostly electronic like mind.in.a.box but it will go in a little bit more experimental direction.
"It gives me inspiration and helps to start the cinema in my head."
ID:UD: How integral is the ongoing storyline to the existence of m.i.a.b.? Can you foresee a time when it wraps up, and if so, will that mark the end of mind.in.a.box?
Stefan: Good question. I think it depends on how much longer Markus will find the time to write lyrics for mind.in.a.box. He is very busy with his real job and he likes his job. I'm happy for him. On the other side Revelations could easily be the last mind.in.a.box album. I hope not, but who knows. Andreas Gruber is much faster than Markus, so the story will not be the problem.
ID:UD: Is Andreas Gruber still collaborating with you on the ongoing narrative thread of the records? What influence (if any) has your musical development had on the direction of the narrative, and vice versa?
Stefan: Yes, Andreas still wants to write for us. Andreas told me during making Crossroads that he wrote the story in a completely different way than usual. He put the headphones on and wrote everything while listening. Normally he thinks about everything before, makes notes and timelines and stuff like this. For Revelations it was different, if I remember correctly, he wrote the story for this album much earlier than we finished our songs. I don't think that we have a big influence on his writing but for sure he gives us some influences with his stories and books. Personally it gives me inspiration and helps to start the cinema in my head.
ID:UD: Many of the themes in m.i.a.b.'s lyrics are very introspective, questions of identity and self have made frequent appearances ("Change", "Questions"). There's a very personal feel to them, is that in contrast to the story of mind.in.a.box?
Stefan: I don't think so. We have always had some story-related songs and some more personal songs. It would be too boring to make only story-songs.
ID:UD: While we expect that the nostalgic elements of R.E.T.R.O (which you've said was in part about celebrating innovation in spite of technical limitations) won't be present in your new album, can we expect any influence from R.E.T.R.O on Revelations, musical or otherwise?
Stefan: No, I don't think so. R.E.T.R.O was a completely different thing for me. I think I can separate making that kind of music from my "normal way" of working. R.E.T.R.O was really something special for me and I'm glad that we did it.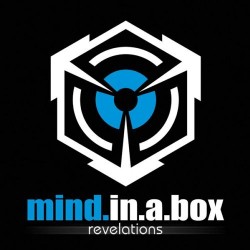 ID:UD: The short clips we've heard of Revelations are instantly recognizable as m.i.a.b., but also seem to be embracing a wider range of sounds than we've heard from the band before. How does Revelations differ from "Crossroads", and how has the actual process of creating music changed for you over the past ten years?
Stefan: For me, Revelations sounds a lot more grown-up. I like all of our albums but on Revelations my singing is a bit different. The reason for this is that on stage I have to sing very differently. It's nearly impossible to combine a very loud stage with quiet singing. This would create only feedback and pain in the ears. So I had to find a way to sing on my long journey on to the stage and I think I found it. Now I know my own voice much better and can use more styles while singing.
The music on Revelations sometimes sounds more old school in my ears. I always had the electronic past in my mind while making Revelations. I don't know why but I think some older electronic releases out there sound much more like future pop than the new stuff. I love this cyberspace, future pop feeling in the music. I wanted to jump on that train again.
"I didn't want to bring the same sound from the album to the stage."
ID:UD: While we had high hopes for your set at Kinetik, we were completely unprepared for the complete reworking of your catalogue for a more traditional live rock band set-up. Where did the decision to do that come from? How much of a challenge was that for a band whose electronic sound is so complete?
Stefan: It was not easy and a long journey. We worked about two years in rehearsals before we went on the stage the first time. We made a lot of visuals, I completely changed my setup two or three times, but I think it was worth it. Of course I knew from the beginning that we would split the audience but I didn't want to bring the same sound from the album to the stage.
Sometimes we have the problem that the local sound engineers mix us like a rock band because they don't know us and think we are a rock band. The live bass, guitar and drums should add something to the music but the main part should still be the electronic music. That's not so easy to mix and I don't blame the sound engineers for this but sometimes we sound a little bit more like a normal rock band, sometimes like an electronic band. I worked hard on that issue and I think I found a way to realize my dream and to make it better in the future. I hope we can switch to EDrums because I have the feeling this would bring the sound to another level. Stay tuned for mind.in.a.box live 2.0!
Revelations is released January 24 in North America on Metropolis.