Hey y'all! Welcome to End to End, a new feature hear on I Die: You Die where we take a song by song look at non-album releases of various stripes. Unlike say, Tracks which is a casual listen to some new songs we're feeling, and our reviews, which we extensively research and stringently edit, this is gonna be an off-the-cuff, first impressions kind of deal. Expect End to End to be where we discuss things like compilations, remix singles (like the one we're having a look at today) and other things that don't already fit into our standard review rubric, on a song by song basis. At the risk of pulling back the curtain, this format came about because as a contributor I'm generally disinclined to write about comps and remix releases. I find it hard enough to conjure 500 words about T3rr0rgan Tranzplant's new LP without sounding like some kind of a cretin, god help me if I have to come up with a thematic hook to hang an EP with 8 versions of the same song on it. My copy of "Elements of Style" is tear-stained enough as it is, thank you very much.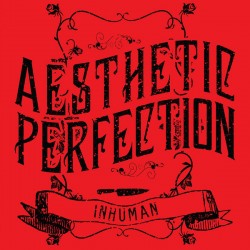 Aesthetic Perfection
Inhuman
Metropolis/Out of Line
Aesthetic Perfection has blown up over the last couple of years thanks to extensive touring and remixing work and the strength of his last LP, and I think it's fair to say that Daniel Graves' forthcoming album is amongst the most anticipated industrial scene records of 2011. He put out a single for the track "The Devil's in the Details" way back in April as a tour only exclusive (and a free download!), but since then it's been pretty quiet from his camp. With the imminent release of All Beauty Destroyed he's releasing Inhuman, first digitally, then on CD via Out of Line in Europe followed by a domestic release by Metropolis in January of 2012. With three years since A Violent Emotion came out, what clue will the single give us as to the new record's sound? Let's have a listen shall we?
"Inhuman"
The title track is a pretty straight club song, unsurprisingly given the nature of these sorts of singles. It's got a catchy chorus, which has always been one of Graves' strengths, and that characteristic bounce that he applies to his originals and remixes alike. He varies his vocals throughout which is one of his very effective production trademarks, clean on the verse, vocoded in the pre-chorus and bridge (a la "Pale" from A Violent Emotion) and harsher on the chorus for maximum effect. It's a solid song with good dancefloor potential, it doesn't innovate AP's formula at all, but makes effective use of the sounds that have made that formula a success.

"Inhuman (Combichrist remix)"
Whoa, pretty different from what Andy has traditionally done on his Combi-branded remixes. A choral-sounding pad and a slightly busier bassline than the original mix are nice variations but don't do much to really stand apart from the primary version of the cut. It also has a lead sound on the chorus that is mixed way too loud and chokes the vocals somewhat.

"Inhuman (iVardensphere remix)"
This has a very iVs sound to it, with the vocals floating on top of a monster analogue take on the bassline, without too much unnecessary ornamentation. Terrific build up into a big breakout on the chorus, and straight through 'til the end. Strong mix, and maybe a clue as to how the vocal experimentations on the new iVardensphere album Scott discussed with us will sound.
"Inhuman (Imperative Reaction remix)"
This one thickens things up in the fashion of IR's last record, but suffers somewhat from the same lack of dynamics Bruce mentioned in his review of it. It does have a nice breakdown midway through, I just wish they had applied some of their new electro-rock stylings to the mix as Aesthetic Perfection songs would likely take to that sound pretty well.
"Inhuman (Panic Lift remix)"
The sounds on this one really emphasize the melody and sentiment of the track well, but don't depart too much otherwise. Not bad, and a good option for a more futurepop oriented DJ set.
"Inhuman (Deadbeat remix)"
This actually sounds very much like what Aesthetic Perfection does on his remixes for other folks, which is an odd choice as we already have a nice AP version at the beginning of the single. Not a standout.
"DAF"
DAF stands for "Drunk and Fucked-Up", and not "Deutsch Amerikanische Freundschaft" if you're wondering. With its Das Bunker and LA shout-outs, it's pretty clear this is one for the folks at the aforementioned club, and would likely fit well in their main room. Vocal cadence on this one reminds me of Brian from the Gothsicles, or Luke from 2 Live Crew, take your pick. It's a fun B-side.
"Hit the Streets (Whiteqube remix)"
I like the tweaky, acidic sounds on this remix of what lyrically seems to be an ode to Daniel Graves' lady. Not sure what the original version will sound like based on this version, but this works pretty well as a nice techno-esque edit and unlike some of the other mixes on the single it knows when to let Daniel's vocals sit out in front.

The Takeaway: Buy the Out of Line or Metropolis version of the physical single if you're a fan chomping at the bit for the new album or a DJ looking for a nice wide-range of options for your sets. If you're cherry-picking via iTunes or eMusic, grab the original version, the iVardensphere remix and DAF.