"From the very beginning we had the intention to create apocalyptical electro underground-hymns, which sounded hard, dark and powerful."
In the wake of futurepop, many artists who have emerged from the industrial club scene over the last decade have attempted to integrate a sense of grandeur and gravitas into their music, but few have done it with the surety of Germany's [:SITD:]. With four albums and a gross of memorable remixes for artists hailing from across the stylistic landscape, the trio of Carsten Jacek, Francesco D'Angelo and Thomas Lesczenski have become a distinctive presence, plying their own blend of electro-industrial across dancefloors and headphones alike. With the recent announcement of their fifth album ICON: KORU, they answered I Die: You Die's questions about the group's history, the importance of live performance and what to expect from the new album.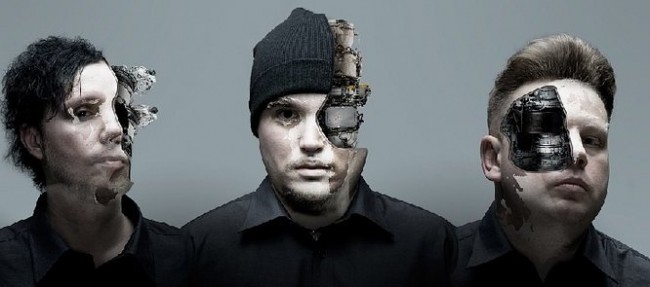 ID:UD: [:SITD:] arrived with a fully formed sound on your first EP, and subsequent albums have really built on that foundation, your growth has always seemed very organic, never jumping around erratically in terms of style. What direction does your new album ICON:KORU take? Are you experimenting with any new sounds or techniques?
Tom: Before we started working in our TLP-Studio we set ourselves specific standards which we never let out of sight during the creative process of ICON:KORU. We wanted to make an album which sounded much harder and more direct compared to its predecessor. To achieve this specific, genuine immediacy and authenticity we focused on the bare essentials and removed needless dead freight. We have used various synthesizers and software programs, partly new, partly old. Every song has its unique requirements, which we try to fulfill. One basic concern of ours was to create a certain roughness production-wise, not heard from us in such consequence since our debut Stronghold and our second release Coded Message: 12. We are very satisfied with the results and we can't wait for people to hear it. Incidentally on November 18th, 2011, ICON:KORU will be released via Accession Records/Indigo in Europe. Our label partner Metropolis Records will confirm the release date for North America within the next weeks. [Metro have set the date for the North American release at January 10th – ed.]


ID:UD: Your songs are sung both in English and German. Is the choice of language one based on effect or audience? Do you ever worry about excluding some of your audience based on the language you use on a given song? And are certain themes more appropriately expressed in either language?
Carsten: The music as well as the words come directly from the bottom of our hearts. We have no worries about excluding some of our audience. We know that our fans make use of free online translators. It's not a big deal to understand the lyrics. Furthermore music is like a drug, music can be healer and most of all music is a language. People from all countries, from all cultures and from all religions are able to speak and understand that kind of language.

ID:UD: One of the earliest ways your name spread was via a string of very strong remixes that are very characteristically yours. How do you approach remixing songs to give them that [:SITD:] flavor while retaining some of the original elements? What do you get from remixing that you bring back to your original compositions?
Tom: In the past we have worked together with a lot of great artists like VNV Nation, Oomph!, Eisbrecher, OneTwo (OMD/Propaganda) or Suicide Commando. It's always an interesting thing to change remixes and to hear the result of such collaborations. Every single remix has its own charm and shows an individual face of the track. We are always looking for the challenge in remixing other artists no matter what kind of music they do. A remix should sound different from the original version. We always follow some guidelines by the original authors to transform them into our own [:SITD:] style. The making of remixes is an important part of the electronic music scene. A plenty of styles and influences flow together and those collaborations cause the feeling of fellowship. We just grab a lot of influences from our favorite bands and artists, and just slap them all together for personal reference, but we would never deliberately try to sound like someone else. The important thing is the filter you use, i.e. your own personality, to look upon the world around you. What comes out of that filter will forever be colored and transformed by your own unique character.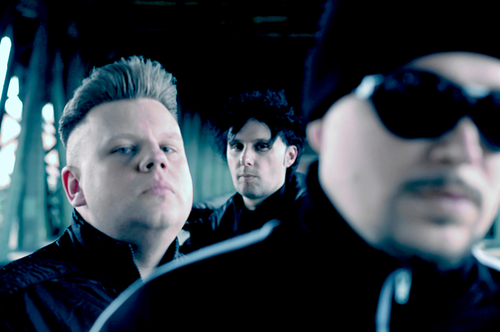 ID:UD: Starting with your first single, [:SITD:] songs have always been able to find a really effective balance between clubbability and home or earphone listening. Is that a divide you approach consciously? Do you ever start writing a song for one or the other context and find it crosses over?
Tom: We don't pay a lot of attention to dance aspects in our songs, it's an automatic process. A few songs have a downbeat and sorrowful feel. Other songs like "State Of Tyranny" or "Tarnfarbre", which means "camouflage", are very club-orientated. We take it as it comes.

ID:UD: Your boxset for the new album will include some unheard demo material as well as re-recordings of some of your songs from the 2001-2011 period. How do you approach reintroducing older material to your audience? What historical importance does that material have for understanding who [:SITD:] are as a band now?
Tom: Our demo albums Atomic (released in 1999) and Trauerland (1996) were non-available. They were distributed in a very limited number of 100 copies at concerts and via magazines. The old material was frequently requested from our fans. Now we fulfill their desire. We would like thank our audience for their strong support and loyalty during the last fifteen. Consequently we decided to republish the best demo tracks on the ICON:KORU 15th Anniversary Collector's Box. The limited edition 4CD box contains 43 tracks and includes the new studio album, a Best Of 2001-2011 CD, a Remix CD and the above-mentioned Early Works 1996-1999 CD. All songs from the 2001-2011 era are new recordings. We gave our older stuff a sonic update.
Seriously, time flies and it seems like yesterday as we've recorded our old demos and played in small youth-clubs. From the very beginning we had the intention to create apocalyptical electro underground-hymns, which sounded hard, dark and powerful. The only difference you can see is that our music became more professional in regard of the modern studio technology and advanced equipment. We've worked very hard on our music and now we have reached the point where we can say: "Yeah, that's the way [:SITD:] should sound". Now we have the possibility to perform before a full audience and bring the most important thing into their focus: our music. It's a gift to have the possibility to visit a lot of countries, to see different cultures and to share our innermost hopes and dreams and even our deepest fears with the audience. We really love what we do!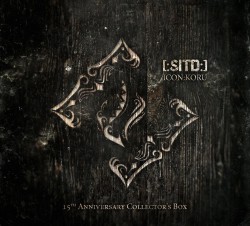 ID:UD: The koru is a Māori symbol that represents both movement and a return to origins. What significance does it have as the title to your new album and what does it represent to [:SITD:]?

Tom: Yes, the koru is the perfect symbol for our music in 2011, because the new material represents movement and a return to origins, too.
 
ID:UD: Despite the relatively dark themes of your music, the times we've been able to catch you live there's been a very energetic and upbeat feel to your performances.  What's your philosophy or approach when it comes to playing electronic music live?
Carsten: After the long studio work there's nothing better than finally being on stage again to present the new songs live and to share these moments with our audience. The interaction with our fans is the most important thing for us. It's incomparable to stand on stage and look how the audience reacts to our music. This always gives us chills, no matter if we play a big festival or in a small club. It's a wonderful feeling to give something and get something back.
ID:UD: You'll be playing our beloved Kinetik Festival this coming spring. Can you talk a bit about the distinctions between touring in Europe and North America?
Carsten: We are glad to have the opportunity to perform in Canada again. We are really looking forward on this event! We have not noticed that big of a difference between European and North American audiences. Both crowds are very enthusiastic and they are always dancing and singing along. In 2008 we played several shows in Vancouver, Calgary, Edmonton and Montreal and we were so amazed, because people sang along to the lyrics. We were so touched that people took the time to listen to our music and learn the words. We hope to see you all at the Kinetik Festival in May again!
ID:UD: You've been releasing music in this scene for quite some time now; in your opinion what's changed in dark electro in that period?  Have your own goals within the scene shifted over that period of time?
Tom: You might well ask! What has changed? Well, nowadays a lot of bands in this genre are inspired by Techno and Trance artists. Some media celebrate their music as progressive. In fact it's not progressive, it's just a sound we have heard a thousand times in the Techno clubs in the 90s! We don't have the intention to write the history of electronic music again, but we guess that [:SITD:] has build up an own identity and over the years we have created our own style. We will follow our own way. Thanks!
Carsten: Many thanks for the interesting interview. It was much fun for us and of course many thanks to all readers for their interest. By the way, any news about the new album can be found on our site and Facebook page, as well as on www.reverbnation.com/sitd and Twitter.