End to End is our track-by-track take on non-album and compilation releases, in which we try to give thumbnail first impressions of each song and point to particular numbers to be cherry-picked via the consumer's online retailer of choice.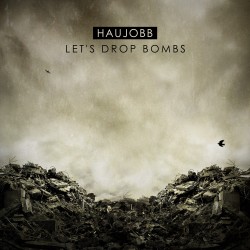 Haujobb
Let's Drop Bombs
Basic Unit Productions
Amidst all the hand-wringing and hair-pulling we went through trying to get a handle on what was so compelling and irreducible about Haujobb's New World March, one thing seemed pretty clear to us: "Let's Drop Bombs" was the natural choice for the next single after "Dead Market". It was the track we gravitated towards for club play, and seemed like it'd remix well. Well, we called it…sort of. The Let's Drop Bombs single which came out this week actually features an even spread of remixes of tunes from across NWM's tracklist, making it more akin to a full remix album than a usual maxi-single. In any case, let's dig in!
Let's Drop Bombs (Radio Edit)
The bass riff seems lower in the mix, while the firecracker drums are even louder. Pretty much as advertised, an easy-in, easy-out edit that reveals a bit more of the classic, tightly-wound EBM structure at the core of the original (with a bit of extra whirling noise in the pockets) which may serve you in better stead for club and airplay.
The Ultimate Trap
After a lengthy, atmospheric build, a simple high lead repeats while all manner of venting, heated industrial pads press down in atonal sequence on this b-side. Definitely representative of the disquieting, machine-like claustrophobia which pervaded New World March. Perhaps structurally a bit too odd to fit on the album, even for a band as nomadic as the 'jobb, but an interesting outtake in this context.
Let's Drop Bombs (Extended Remix)
Less of a clubbed-up extendo-version than the version of "Dead Market" which was released with the same tag, this one is mostly just super-stretched out. The extra snare-drum (which has a very classic 80s snap to it) might be of some aid to less confident DJs, I suppose, but that shouldn't be an overriding factor in choosing this or the edit. Use 'em in different situations as you see fit.
Membrane (The Horrorist Remix)
No surprise to see Oliver crop up again given the mutual respect between these two acts. He sets the clock running with a no-frills, minimal bassline, then passes Myer's compressed vocals through some static washes and metallic pinging. Has a very nice, driving feel to it that should work on floors without pandering. Only problem is that it feels a bit short: I like the hissing drum builds and feel like this one could've been left to run the course for another two minutes.
Little World (Cute Heels Remix)
Super dark and squelchy, this is miles away from the bubbling lyricism of the original. The Columbian producer takes liberties with a muddy, distorted bass funk of his own creation and the sort of floating, rootless high pads that nu disco mavens like Bottin have brought back. Definitely not for everyone, but a cool lateral reach into some other electronic genres.
Machine Drum (Christopher Kah Remix)
Someone's taken the song title at its word: military drum tattoos and vocoder! Shuffles along with some retro-synth in a Legowelt/Solvent after that, but I'm not really feeling this one.
New World March (White Car Reboot)
Now this is that about which I am speaking. I've been a fan of White Car's outre-EBM for a while and figured this would work, but hadn't anticipated how well their minimal/abstract interpretation of Haujobb would recall the band's extant work on Matrix and ninetynine remixes. Expertly done, with a nice sense of a new band at the cutting edge being influenced by the same from a generation back.
Crossfire (Amnistia Modification)
Perhaps fits in more with contemporary electro-industrial sounds than any of the other mixes, but that's not a slight. Some slight synths and rhythms added, but the clean and crisp aesthetic of the original album endures. Tasteful.
The Ultimate Trap (People Theatre's Cove Mix)
Far more accessible than the original, this lays a nodding electro foundation for a very strong vocal turn from Myer which, I must admit, I'd nearly missed given the density of the original. Some nice, older-steez electro toms and stabs flesh it out and could perhaps make it work as a bridge track between industrial and electro-synth sets.
Little World (Cute Heels Remix – Instrumental)
Welp, if you couldn't get enough of that wet, ripping bass I was talking about earlier… I dunno. I get the feeling I could play this for some of my snobby minimal techno fan friends, get nods of approval, and then blow their minds when I reveal that it's a remix of a band that used to be on Metro, all cheesy 80's wine commercial style.
The Takeaway: The EP's available as a pay-what-you-want download via Bandcamp (with a CD release happening in the coming months), so there's no need to cherrypick this release as we normally to with End To End pieces, but as a varied complement to one of 2011's best records it definitely merits a buy. This very much feels like a whole mess of bands with extremely varied styles taking the source material into their own houses; with the exception of "The Ultimate Trap", Let's Drop Bombs feels very different than the album from which it was taken. For the sake of argument, I'll flag The Horrorist and White Car versions as my favourites. There's already talk of another single in the works (and the possibility of Haujobb vinyl at some point in the near future), so don't sleep (world, sleep)!