End to End is our track-by-track take on non-album and compilation releases, in which we try to give thumbnail first impressions of each song and point to particular numbers for cherry-picking via the consumer's online retailer of choice. This time we listen in on the new single from one of the top touring scene acts, who have been teasing a switch in direction with their new material…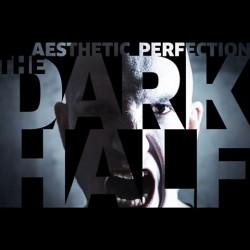 Aesthetic Perfection
The Dark Half
Metropolis Records
The fur has been flying over on the ol' Aesthetic Perfection Facebook, with some fans being pretty vocal with their feelings about the new material that has been emerging from the forthcoming (as yet unnamed) album. AP's Daniel Graves has been pretty clear that this is the record he wanted to make, and that we should expect material in line with the uptempo, hooky feel of first single "Antibody". Second single "The Dark Half" hit digitally yesterday, and while it's really too early to gauge fan response, the remix package was intriguing enough for us to want to check it out.
"The Dark Half"
Still not totally decided on this single. As with "Antibody", it feels like a middle ground between the Aesthetic Perfection of All Beauty Destroyed and the pop direction Graves has been hinting at, but I'm not sure how well the two mix. I do like that it feels very "song" oriented, not just like a collection of loops, and the verse and chorus are reasonably hummable. As a single I think it might have benefited from "radio edit" style mix, as it wears a bit thin by four and half minutes. Still, it's a reasonable proof of concept for the current Aesthetic Perfection sound, it does have solid club appeal, and should make some DJs and clubgoers happy.
"The Dark Half (Suicide Commando)"
A weirdly slow boil for a mix from Johan Van Roy, with an almost minute long vocal intro before the beats come in. Not sure that the chorus works that well either, with some additional beats and a slight rejig of the elements from the original. Still on the second verse there's a solid aggrotech groove that brings Tactical Sekt to mind, and the nice build to the bridge and final chorus are well executed. Not top notch stuff, but solid enough, and an interesting of meeting of both artists stylistically.
"The Dark Half (∆AIMON Remix)"
A very different type of mix from ∆AIMON, who dig into the original, lift out the vocals and some of the rhythmic elements, and then build an alternate version that maintains much of the spooky energy of the original. It's actually pretty cool to hear this sort of thing from ∆AIMON, who normally don't do anything quite so beat-oriented. Although it's not a banger by any means, it could conceivably fit into a slow to mid-tempo club set.
"The Dark Half (BITES Remix)"
As noted in the Tracks post on Monday, I'm feeling this. BITES usually brings some fire to his remixes in the form of an evolved post-industrial sensibility. Love the weird bleepy sounds and synth crashes and the sharp sharp cymbal lines. It definitely has a motor in it, and I think has a lot of potential for DJs who want to do something a little different. Good stuff.
"The Dark Half (BlakOpz Remix)"
As evidenced by their fantastic remix for iVardensphere last year (a personal favourite around these parts) BlakOpz know their way around a club version. This is uptempo, doesn't take too many liberties and generally flattens things out for mixing purposes, I certainly won't be surprised to hear it mixed in with high BPM EBM stuff. I kind of wish there was a bit more of the BlakOpz sound in it, but it's fine for what they were aiming for. Think of it kind of like a Razormaid mix, ie built for a specific purpose.
"Dead Ringer"
This is the sort of song I think a certain portion of Aesthetic Perfection's fanbase would be content to have represent the new record: uptempo, thick bassline, lots of screaming. With that understanding, I think it's pretty telling that it's a b-side rather than an album track: maybe a signpost to how directly Graves is taking the idea of a new direction. It fits well on the single at any rate, and I could see it getting some spins from some folks who are partial to the A Violent Emotion material.
The Takeaway: Well, this is a bit loaded really. On the one hand, if you're a fan of the band and don't have any opinion on the new stuff, by all means grab the whole thing. On the other if you're one of those folks who isn't really feeling "The Dark Half" I don't know that any of these mixes will call out to you, but you can at least grab "Dead Ringer". And if you're in the middle, you could do far worse than the BITES and ∆AIMON as individual downloads. It's an interesting package with some range amongst the six tracks, and if nothing else it really does have me curious as to how the forthcoming album is gonna play out.
The Dark Half is out digitally now via iTunes and Metropolis' website.