End to End is our track-by-track take on non-album and compilation releases, in which we try to give thumbnail first impressions of each track.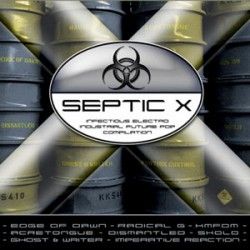 VA
Septic X
Dependent
Dependent's long-running flagship compilation series hardly needs any introduction. Its entries have always done their level best to present a cross-section of sounds and sub-genres, as well as a blend of established and up and coming acts. A quick scan of the latest installment's track list looks as though it's attempting to carry on that tradition, but will it hold up? Let's find out…
Skold, "Suck (Down On Your Knees Front Line Assembly Remix)"
I know Skold's solo stuff shifts units, but are there really that many people who can't wait for the next Manson album to get their ka-JUH-ga-JUH industrial guitar fix? Less a remix than an almost complete rewrite, this is pleasantly spacey and morose and in keeping with the last FLA disc's quieter moments, but the fame-obsessed rock star vocals remain and just don't work for me.
Patenbrigade: Wolff, "Maurerradio (Extended Version)"
I've always dug the construction worker schtick of former Dust Of Basement honcho Sven Wolff. Cold, plodding, EBM tick-tock which holds together nicely. Should appeal to fans of Prager Handgriff and the like.
Radical G, Lucifer (Long Version)
Over-the-top modern electro goofiness (The Whip in a less grimy iteration?) with a hint of Eurodance and new beat. Those with a higher cheese quotient in their DJ sets than I may enjoy this.
KMFDM, "Go To Hell (Cervello Elettronico Remix)"
Dunno what the story was behind Snarf remixing a Kamuffdom track old enough to buy booze here in Canada (is there a new "greatest hits remixed" comp coming I'm unaware of?), but he adds some nice squelchy layers overtop of that classic doofy beat and Shulz's riffage.
Edge Of Dawn, "Red Bank"
A tight, speedy little vehicle for Frank Spinath's trademark voice that clicks and bubbles brightly. Might go through too many shifts too quickly for dancefloors, but you never know. Really like this one.
Dismantled, "Disease (VF Remix)"
The jury's still out for me on the new Dismantled stuff. It sounded super muddy and washed out sound the last time I saw them live, and that's coloured my impression of what I've heard since. Not sure that this stripped down, melodic take on this track really works.
Acretongue, "Oblivion (Abeyance)"
When Strange Cargo dropped there was much talk in the ID:UD camp about whether an album with such a delicate touch had any dancefloor potential. Recent outings of the slinky "These Soft Machines" have proven it does, and this tune-up of a far more beat-heavy track adds to that argument. The galloping bass triplets are a bit cookie-cutter, but the song's original strength holds through.
Imperative Reaction, "Side Effect (Club Version)"
Tastefully stretched and tweaked as club mixes should be, though I'm still not that nuts about the source material.
Volt 9000, "How To Start A War (Original Version)"
This I like. It's unabashedly kooky, draped in a circa-94 video game aesthetic (16-bit is the new 8-bit!), and even yells out the project's own name during the chorus. Bit rough around the edges, but that's fine by me. Had never heard of the project before this, but apparently there are two LPs from the past couple of years which I'll be sure to check out.
Legacy Of Music, "Tragedy (featuring Mesh)"
Moody elegance with nice vocals from Mark Hockings. Kinda reminds me of Wedding Album-era Duran Duran (and yes, that's a good thing).
Angels On Acid, "Epitaph (V2)"
Chorus is somewhat interesting, but the verses are too cluttered and aimless. This is a far less aggressive vein than they're used to working in, though, and they deserve points for changing things up.
Ghost & Writer, "Gambit (Septic Version)"
More Frank! We loved Shipwrecks and I'm glad to know there's gonna be more from that project. This tune's a bit more straightforward than much of that record, and despite its apparent simplicity did a good job of growing on me.
Diskonnekted, "Yesteryears (Septic Edit)"
I already talked a bit about this one and still like it. Clean guitar leads blend with nicely sculpted synths in an oddly nostalgic way.
System Syn, "Absence"
Never been much of a System Syn fan, though Clint Carney's vocals are bang-on here. The track's well-produced, but I'm not finding quite enough to hang my hat on melodically or harmonically.
Mindless Faith, "Next To Last (Septic Mix)"
Good churning guitars melding with acidic synth washes and some subtle breaks. It's very easy to fuck up this sort of vibe and fall into generic mediocrity, but Mindless Faith stick the landing.
Crash Course In Science, "No More Hollow Doors"
Was very surprised to see this here. The semincal electro-punk/minimal wave band's been doing a reissue campaign, including a mammoth Vinyl On Demand box. Not exactly sure what the Dependent connection is, but if it gets younger and more casual electronic music fans checking out classic cuts like this anxious freak-out, I'm happy to see it.
The Takeaway: It could be more indicative of my changing listening habits than any objective shift, but Septic X felt a lot brighter and more melodic than earlier releases in the series. For DJs who spin anything other than exclusively harsh stuff, Septic X well warrants a buy (the Edge of Dawn, Volt 9000 and Crash Course tracks were my favourites). There's lots for more casual listeners to cherry-pick depending on taste (though it doesn't look as though it'll be released digitally in North America for another couple of weeks), but if you're in a mood to lend an ear to stuff outside of your usual comfort zone, you could do a lot worse than nabbing the whole thing, and for my money, that's what the Septic series has always been about.