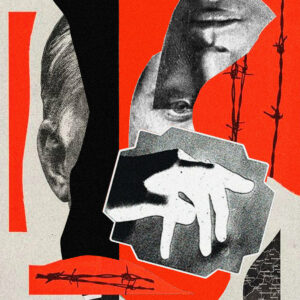 Camlann
Dismantle!
Oberwave Records
Dismantle! is the fourth LP from Indonesian darkwave act Camlann, and certainly their most striking. If you assigned the interest in their preceding LPs to the novelty of their youth (the project was originally formed in middle school) and the dearth of visible dark scene music from Southeast Asia, it's time to reassess: the most fascinating thig about the music Fauzan Pratama and Ony Godfrey are making is its embrace of styles that go well beyond the boundaries of darkwave, and their explicit and unapologetic socialist politics. Simply, we've never heard a record like this before.
While still identifiably darkwave in its broadest sense, Camlann have gone hard on integrating a variety of pop and dance music sounds into their sound, while holding fast to the distinctive sing-songy delivery of vocalist Ony Godfrey. The results are a consistency of tone and execution, but with a wild amount of variety in terms of the makeup of the songs themselves. How do you get a modern take on early 90s electro-goth like "Your Death is My Glory", complete with its assortment of haunted house samples, to sit next to the bouncy tropical pop of "Proletariat Wishes" (a cut that is closer to "Lean On" than it is any given Boy Harsher or She Past Away number)? Mostly by being unafraid to just go all in on them. The confidence with which they deliver the glorious mash-up of musical ideas on cuts like "This World is Ugly" – a song that includes chuggy guitars and goblin backing vocals, breakbeats, a full on NRG rap breakdown from Vic Rippa and a chorus sweet and sticky enough to attract ants – is bracing. Simply, these things go together because Camlann made them go together.
Beyond its musically adventurous qualities, the record is marked by its very direct socialist politics. The band aren't being coy with songs like "The Sacred Sacrifice" or the very on the nose "Alienated", and while not every song on the record addresses workers rights and Leninism, those themes are always close at hand. Like so many artists before them, from Guthrie to Chumbawumba, Camlann have discovered the strength of pop as a vehicle for polemics; "Politician Superstar" dresses up its attack on corrupt authority with a half-rocksteady, half hyperpop instrumental that features a genuine singalong chorus, while "False Consciousness" delivers New Order-esque dance rock to put over its warning to the bourgeois classes.
Despite a few moments that don't quite gel with the record's mixture of politics and omnivorous pop sensibilities (while sincere, heartfelt ballad "Father's Love" veers to close to schmaltzy top 40 for comfort), Dismantle! feels like one of the gutsiest and most unique darkwave records of the modern era. That an album of such imagination and expert execution could come from two artists this young is remarkable, that its musical boldness matches its lyrical conviction makes it doubly so. A triumph, and highly recommended.