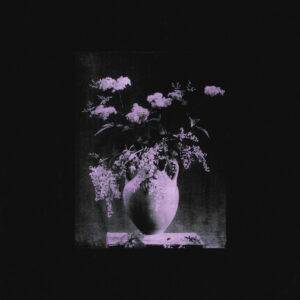 Ringfinger
In A Black Frame
Self-Released
Those who have followed the career of Vancouver's Ringfinger since the release of their earliest EPs in 2019 should have no issue recognizing the jump forward in every aspect of the darkwave project's presentation apparent on debut LP In a Black Frame. Specifically, the duo made up of project founder Mason Morris and Hannah Dow-Kenny have tightened up both the songwriting, production and performance of their material, lending their first proper album a tangible maturity. Above all, Ringfinger have nailed down their own identity, zeroing in on the goth markers of their songs and allowing them to blossom fully, if gloomily.
On that point, what separates the band from the broader world of post-punk is their embrace of straightfaced doomy melodrama, putting enough energy and thrust behind it to keep it from being bogged down in all-encompassing malaise. The album's opening salvo of the brief table-setter "Black Frame" and first proper song "Familiar Placement" exemplifies the band perfectly; where the former sets up the smokey, sombre atmosphere that pervades the record, the latter comes rushing out of the gate with splashy drum programming, chiming guitars, and Morris' baritone vocals, with some smart application of chorused bass and and mournful synths that build to a satisfyingly grandiose finale. It's a playbook they use again on catchy club-ready cuts like "Chamber of Roses" and the hypnotic "The Veil of Night" (that one recalling some of Ikon's finer moments).
Part of the appeal of In A Black Frame as a listening experience is its carriage; there's a heft to these songs that belies their nimbleness. "Upon Acres", a full on goth reworking of a song by BC folk-singer Kristi Hawkes, dips into Pornography's elegiac playbook, a breakdown midway through taking it from sad to full blown grievous, both in tone and seriousness. That kind of unblinking and earnest solemnity is hard to pull off without becoming depressing or comically over the top, a pitfall avoided through smart track ordering and the use of synth instrumentals to maintain mood without piling on the woe. For every chilly and vaguely menacing "Behind The Web of Ice", there's a fast moving and catchy cut like "An Apparition" right behind it to maintain the momentum. It's not just that the songs are good – and they're quite good – it's that the band have figured out how to present them in ways that keep them distinct and impactful.
Like the best acts in the current wave of goth-leaning darkwave like Twin Tribes or Hapax, Ringfinger have found the right balance between mood and actual honest to god songcraft on In A Black Frame. For all the obvious effort Morris and Dow-Kenny put into the album, it breathes and moves with a liveliness that is never at odds with its grave bearing, mournful without ever being an actual downer. It's a tremendous step forward and arrival for Ringfinger, and one of the genre's best efforts year to date. Recommended.