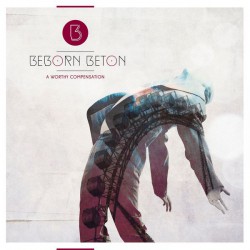 Beborn Beton
A Worthy Compensation
Dependent
The legacy of German act Beborn Beton may be inextricably linked to their monster hit in the minds of millenial clubgoers round the world. That's a shame, as their catalogue has more than a few gems in it. For better or worse, A Worthy Compensation feels like a direct sequel to those records, with the sixteen years that have elapsed between since the release of Fake melting away with each gooey hook.
With a few of the album's ten songs floating around for a few years in remixed or live versions, there's a definite sense that Beton have been stockpiling cuts for this record for years. If so it would certainly account for how solid the songcraft is throughout; there are no real duds here, and a couple of numbers as strong as their 90s best. "Daisy Cutter" is the band at their strongest; Stefan Netschio's peculiarly familiar voice crooning its way around a slow rhythm and judicious synth strings, building to a big regal chorus. They channel the same casual stateliness on "Last Day on Earth" and the excellent title track: each is a solid synthpop gem written and programmed to the group's strengths.
The throwback quality of A Worthy Compensation is certainly a part of its appeal, although there are spots where it works against the record. In certain songs the production has a distinctly 90s quality that is less timeless than it is dated, especially on clubbier efforts like "24-7 Mystery" and "She Cried" which puzzlingly bury Netschio's voice in effects for no discernible gain. That's not to suggest that the album would benefit from a total sonic overhaul (in fact the boilerplate wubs on the otherwise excellent closer "Who Watches the Watchmen?" make a strong argument against too much modernization), but songs as good as these might have benefited from a little clean up at the mixing stage, allowing their strengths to shine brighter.
Still, if your reason for checking out a new Beborn Beton album is based on how much you enjoyed the group back in the day, it's hard to imagine you'll find much fault with anything here. The total stripmining of 80s synthpop in recent years certainly suggests that an assessment of the genre's unfairly forgotten second age might be worth the effort, and if an album like this one hastens that by pointing to the era's strengths, all the better. It's a record out of time, and that has a special charm of its very own.